Brace yourselves for the electrifying new release from Philadelphia's own powerhouse rock outfit, Soraia. The band has just dropped their latest single, "Every Motion" via the renowned Wicked Cool Records. You can expect haunting melodies and raw energy to define your listening experience on this exceptional track.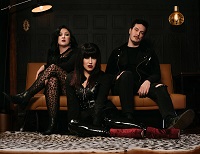 Fronted by the enigmatic ZouZou Mansour, Soraia delves deep into the uncharted territory of unresolved trauma passed down through generations. "Every Motion" unfolds through the lens of a wolf and symbolizes a spirit that fights for survival.
New Music From Soraia
As Mansour herself explains, "The lyrics and music to this one developed pretty quickly. To me, that means it's both honest and subconscious. I love that about 'Every Motion'—making it my new favorite Soraia song."
To accompany the release of the song on streaming platforms, Soraia has also released a lyric video for "Every Motion." It's an immersive experience that will deepen your connection to the song's profound message.
The band also just treated fans to a merch drop. You can visit their website and indulge in an array of new items that capture the spirit of the band.
Strong Follow-up
"Every Motion" comes hot on the heels of Soraia's remarkable cover of "Baby Borderline" by Swedish garage rockers The Hellacopters. The band's 2022 full-length album 'Bloom' solidified their presence in the music scene, giving birth to hits like "I Seek Fire" and "Tight-Lipped." With each release, Soraia continues to forge its own path with a blend of soulful rock and powerful storytelling.
But don't just take our word for it, check out Soraia on the road this summer. The band will embark on an aggressive tour that includes a visit to the West Coast. And mark your calendars for an exciting Swedish tour featuring Soraia alongside rockers Diamond Dogs, set to launch in September.
Getting To Know Soraia
Soraia is comprised of the dynamic trio ZouZou Mansour (lead vocals, tambourine), Travis Smith (bass guitar, backing vocals), and Brianna Sig (drums, backing vocals). They have emerged as a force to be reckoned with. Their chemistry and unwavering passion for their craft have attracted the attention and admiration of rock legends like Jon Bon Jovi, Steven Van Zandt, and Joan Jett.
Their latest full-length album Bloom showcases the band's growth, experience, and strength. Soraia's songs offer solace in the face of loss and a testament to the resilience that resides within us all. This record symbolizes the triumph over darkness and the scars that shape us.
For more information about Soraia, their music, and upcoming tour dates, visit their official website.
Connect with Soraia:
Website | Facebook | Instagram | Twitter
Are you enjoying MendoWerks Magazine? Receive updates each week directly in your inbox. Sign up for the newsletter here.
About Author