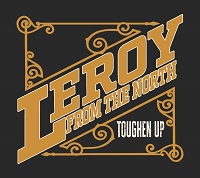 Leroy From The North's journey is a testament to the power of musical influences, collaboration, and life experiences. Working with fellow artists and Grammy-winning producer Eric Corne, Leroy From The North has crafted a sound that seamlessly blends country and classic rock.
Listeners can expect a captivating and emotionally charged musical experience. With the new album Toughen Up, we're invited to embark on a road trip, immersing us in the stories and landscapes that have shaped his artistry.
Leroy From The North Interview
In this interview, we sit down with Eli Wulfmeier, frontman, guitarist, and principal songwriter for Leroy From The North. We had an opportunity to delve into the influences and experiences that have shaped his musical style and songwriting approach.
From growing up in Michigan with exposure to 1970s rock bands to collaborating with various artists, and working with Grammy-winning producer Eric Corne on his latest album, Toughen Up, Leroy From The North shares valuable insights into his creative journey.
How did growing up in Michigan and being exposed to 1970s rock bands influence your musical style and songwriting approach?
I remember listening to a lot of classic rock on the radio when my mom would take me to hockey practice and guitar lessons. She would always have WRIF or 94.7 playing in the car, and for some reason, they played a lot of deep-cut bands like The Guess Who, J Geils, Steppenwolf, Marshall Tucker, Mountain, and of course Seger and Nugent. I think that really kicked off my love of guitar-driven rock n' roll.
As a co-writer and lead guitarist for various artists, how did those collaborations shape your own songwriting process and contribute to the development of Leroy From The North?
Over the years I've written with a lot of people, and it's so rewarding when a song comes together in a way that I normally wouldn't expect. I'm sure that I've picked up a few arrangement tricks along the way as well as trying to make the lyrics and melody as tight as possible. I have a tendency to ramble, so it's a good balance when I work with other writers and learn how they approach finishing songs. Oftentimes, I find that the hardest thing to do is strip a song back so that it's concise without being too neutered.
What was the experience like working with Grammy-winning producer Eric Corne on Toughen Up, and how did his involvement impact the overall sound and direction of the album?
Eric Corne is really cool to work with. I played on a few Sam Morrow recordings, and I always liked how those albums sounded. He gets great tones and has a really good sense of how the songs represent the band. It's such a creative and easygoing environment where nothing is off the table in terms of instrumentation or melodic choices. It was a total blast working on this record with him.
The album has been described as a soundtrack for road trips with the radio turned up. How did you capture that energy and blend the influences of country and classic rock to create a sound that resonates with the open road?
I've been touring a lot with bands like Dorothy and Nikki Lane, and it's hard not to have some of that road life seep into the subconscious. I love to see the country with all its different landscapes and culture, and the freedom of being on tour at times. I was always a fan of writers like Waylon Jennings, Kris Kristofferson, Dylan, Kerouac, etc., and living in LA I'm constantly driving, so it's no surprise that I gravitated to that sort of road song. I'm just hopeful that the songs translated into some sort of driving experience because that's something that's dear to me.
How have your experiences touring and playing live shows with Leroy From The North influenced the writing and recording process for Toughen Up?
I think all of the touring over the years is such a unique experience that can be simultaneously rewarding and taxing. You meet so many people in different cities, which is incredible, but sometimes you miss home and the relationships you've built while not on the road. It can be complex, and I think that emotional turbulence is inspiring. I love writing and playing shows, and I'm grateful that I get the chance to do it while I can. Toughen Up was a vehicle for me to sort of vent through telling stories that I thought were worth telling.
Connect with Leroy From The North:
Website | YouTube | Facebook | Instagram
Are you enjoying MendoWerks Magazine? Receive updates each week directly in your inbox. Sign up for the newsletter here.
About Author