Icelandic trio Sigur Rós is renowned for its ethereal soundscapes and captivating music. The band has made a triumphant return with its eighth studio album, ÁTTA. This highly anticipated release marks their first album in over a decade and was released unexpectedly on June 16 via BMG.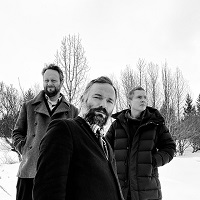 To build anticipation, the band released the 10-minute epic track 'Blóðberg' a few days prior to the album drop. The song release was accompanied by a visually stunning music video directed by Johan Renck.
Sigur Rós embarked on the journey of creating ÁTTA in 2019. Singer/guitarist Jónsi and bassist Georg Hólm reconnected with keyboardist Kjartan Sveinsson. He rejoined the band after his departure in 2012.
ÁTTA: Behind The Scenes
Sveinsson explained that the album's intention was to create something beautiful, contrasting with the more aggressive nature of their previous studio album, 2013's Kveikur. This artistic evolution showcases the band's ability to explore new territories while maintaining their distinctive sound.
ÁTTA was recorded across multiple continents and prestigious studios, including the iconic Abbey Road in the UK. The album prominently features the London Contemporary Orchestra conducted by Robert Ames, adding a dynamic orchestral element to Sigur Rós' atmospheric compositions.
Additionally, long-time Icelandic collaborators Brassgat í bala contribute their brass talents. The album was mixed and co-produced by Paul Corley, who has frequently collaborated with the band, ensuring a seamless blend of sound.
Live In Concert
To celebrate the album's release, Sigur Rós will embark on a limited run of very special dates, performing alongside a 41-piece orchestra for the first time across Europe and North America.
Formed in 1994 in Reykjavík, Sigur Rós' ethereal sound is characterized by Jónsi's falsetto vocals and the use of bowed guitar. Their material showcases their incorporation of classical and minimal aesthetic elements. The band's music often features Jónsi singing in Icelandic and utilizing non-linguistic vocalizations, a style they term Vonlenska.
This long-awaited album is a return to the spotlight for Sigur Rós. Prepare to be transported into their ethereal world once again as ÁTTA takes you on a musical journey.
Connect with Sigur Rós:
Website | YouTube | Facebook | Instagram | Twitter | Tik Tok
Are you enjoying MendoWerks Magazine? Receive updates each week directly in your inbox. Sign up for the newsletter here.
About Author