'Polite Society' is the debut feature film from Nida Manzoor, the British-Pakistani creator of 'We Are Lady Parts.' She has crafted a wildly inventive and kick-ass story of two very different sisters.
Ria (Priya Kansara) has one dream in life and that is to be a stuntwoman. At school, her stuffy teacher pushes her to pursue a more traditional career, but that only increases her desire to prove everybody wrong.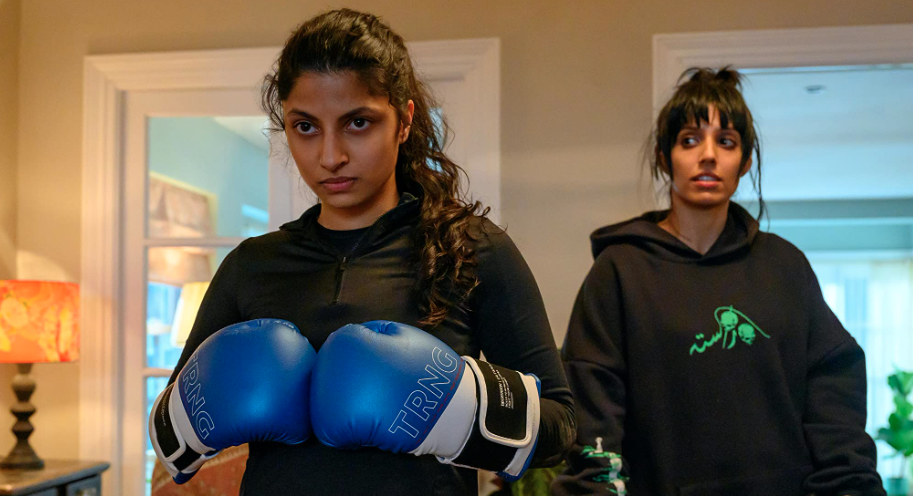 Lena (Ritu Arya) is Ria's older sister. After dropping out of art school, she struggles with her self worth and Ria's constant insistence that she assist with helping her make martial arts videos to post online.
Both Ria and Lena are living at home with their very traditional parents who are very loving, but aren't exactly encouraging of either of their daughters' dreams.
After the family is invited to an Eid Mubarak celebration, Lena ends up falling for a doctor named Salim. Much to Ria's horror, it appears as though her sister just might partner up and move away, leaving her alone.
The less you know about what happens next, the better.
The Verdict
It's harder than ever to make a movie that actually surprises me, but 'Polite Society' did the trick.
Priya Kansara is an absolute revelation as Ria. She injects so much power into this performance and her drive to become a stuntwoman feels completely authentic. As does her intense belief that she must do everything in her power to keep Lena and Salim from getting married.
This is more than concern about being abandoned by her big sister. Ria truly believes that something sinister is going on. At times, it seems like she may be more than a little unstable, until we slowly learn that she may be on to something when it comes to Salim and his intentions.
'Polite Society' is funny, action-packed, and completely unforgettable.
Grade: A
How to Watch 'Polite Society'
'Polite Society' is streaming now for 4 months on Peacock. After the initial exclusive window, it will move to Amazon Prime Video for 10 months before returning to Peacock.
It is now available to purchase on Blu-ray and DVD and from all digital providers. You will be able to rent it from all digital services beginning July 14.
Nida Manzoor's series about a young Muslim all-female punk band, 'We Are Lady Parts,' is also highly recommended and streaming on Peacock now!
Looking for more movie recommendations? Check out our June streaming preview!
About Author