Canadian alt-rock sensation, Autopilot, is making waves once again with the release of its highly-anticipated new single, "Say Something." Following the success of their 2022 hit "Feverish Dreams," the band is back with a powerful track that will captivate fans new and old.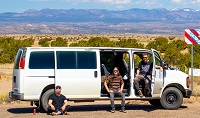 According to Harder, "Say Something" is a heartfelt reflection on nostalgia and self-discovery, delving into the longing for unsaid words, the recklessness of youth, and emotions that never fade away. With its introspective lyrics and evocative melodies, the single promises to strike a chord with listeners who crave authenticity and depth in their music.
Autopilot will be taking its electrifying sound on the road this summer. They're set to tour across North America in support of their upcoming album. Consisting of Marlon Harder (vocals, guitar), Adam Swalm (bass), and Cale Hretsina (drums), Autopilot is poised for success.
Autopilot In The Studio
"Say Something" was written by Harder and S.J. Kardash, while the production and engineering were handled by Kardash at the renowned Full Color Studios in Saskatoon, Canada. The collaboration between these talented individuals has resulted in a track that exudes passion and creativity.
Autopilot's unique blend of heartfelt lyrics and electrifying alt-rock sound will undoubtedly leave a lasting impression. Stay connected with Autopilot as they continue to push boundaries and deliver music that resonates with the soul.
Check out these not-to-be-missed tour dates and keep your eyes and ears peeled for more exciting announcements from Autopilot coming soon.
Autopilot Tour Dates:
JUN 1 THUR | Ojata Records | Grandforks, ND
JUN 2 FRI | Skyway Theatre | Minneapolis, MN
JUN 3 SAT | Dark Star Art bar | Madison, WI
JUN 4 SUN | Burlington | Chicago, IL
JUN 5 MON | Beachland Ballroom & Tavern | Cleveland, OH
JUN 7 WED | Canadian Music Week | Toronto
JUN 8 THU | Canadian Music Week | Toronto
JUN 9 FRI | Canadian Music Week @ The Painted Lady | Toronto
JUN 10 SAT | Canadian Music Week | Toronto, ON
JUN 11 SUN | Stamps The Bar | Tonawanda, NY
JUN 12 MON | Rumba Cafe | Columbus, OH
JUN 13 TUE | Nightstop | Bloomington, IL
JUN 14 WED | Forager Brewing | Rochester, MN
Connect with Autopilot:
Website | YouTube | Facebook | Instagram | Twitter
Are you enjoying MendoWerks Magazine? Receive updates each week directly in your inbox. Sign up for the newsletter here.
About Author