Brenda Kahn, a distinguished songwriter, producer, and author has unveiled her latest musical masterpiece to the world. "Alright OK" uplifts the spirits and delivers a powerful message of hope and positivity. Penned during the tumultuous early days of the pandemic in New York, Kahn found solace in her creativity. She's crafted a song that celebrates the joy of forging connections amidst adversity.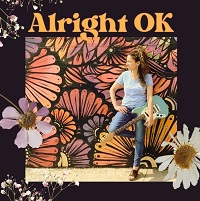 Kahn is a luminary within the realm of singer/songwriters, having played a pivotal role in the 90's anti-folk movement. Her music embodies the DIY ethos and punk sensibility that defines the genre. Throughout her illustrious career, Kahn fearlessly explored a wide range of styles across seven albums. She skillfully weaves elements of punk, jazz, country, and spoken word into her musical tapestry.
Her ascent to stardom began with the release of her major-label debut album in 1992. Epiphany in Brooklyn was released through CHAOS/Columbia Records and featured the standout "I Don't Sleep, I Drink Coffee Instead." This breakthrough propelled her to embark on extensive tours, gracing stages alongside legendary icons such as Bob Dylan, Jeff Buckley, and the Kinks.
Brenda Kahn's Versatility
Beyond her musical endeavors, Kahn founded Womanrock.com in the early 2000s, a groundbreaking online magazine, and music store dedicated to empowering female artists and offering valuable insights on navigating the complex landscape of the record industry.
In 2017, Kahn delighted audiences with 'Rocket to the Moon,' a children's album that further showcased her versatility. Following this success, she penned a heartfelt book of poetry titled "Ode to Chores: the Good, the Bad, and the Laundry," which resonated deeply with moms around the world.
With the arrival of "Alright OK," Brenda Kahn continues to inspire and forge connections with her adoring fans through her remarkable music and profound words.
Connect with Brenda Kahn:
Patreon | YouTube | Facebook | Instagram | TikTok
Are you enjoying MendoWerks Magazine? Receive updates each week directly in your inbox. Sign up for the newsletter here.
About Author