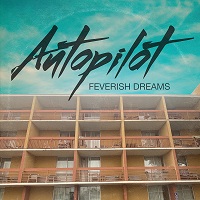 Canadian alternative rock band Autopilot has a killer new single "Feverish Dreams" and has announced a number of new fall tour dates. Following a brief stop in Regina, Saskatchewan, Autopilot makes its way back to the United States. They have concerts planned in Chicago, New York, Atlanta, and more.
Autopilot is ready to hit the road and build on the success of its last run through the U.S.
We are blown away by the response from our last US tour and can't wait to be back on the road in November! We are so excited to share our new single Feverish Dreams, the first release from our upcoming album.

-Autopilot
When the world stood still during the pandemic, Autopilot refused to slow down. They might not have been able to tour and play shows but they did work on material for their new album. And after nearly a decade together it appears their best days are still on the horizon.
"Feverish Dreams" is an accessible uptempo alt-rock jam. The opening drum grooves are reminiscent of The Strokes while we can hear hints of Arctic Monkeys and Interpol throughout. The new material follows a cover of The Cure's "Between Days" which was released over the summer. Stay tuned for an official album release date announcement.
Connect with Autopilot on their official website for tour date information or follow along on Instagram and Twitter.
Are you enjoying MendoWerks Magazine? Receive updates each week directly in your inbox. Sign up for the newsletter here.
About Author