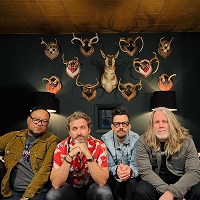 You may recognize Louden Swain frontman, Rob Benedict, from television shows like Supernatural and Felicity. With the release of the new single "There's The Rub" the band is prepping for the release of their 10th studio album.
Feelings And Such drops on November 11th and they'll be performing the album in its entirety along with other fan favorites this weekend in Los Angeles. The show marks the 25th anniversary of the band's formation.
Louden Swain is Benedict alongside bassist Michael Borja, drummer Stephen Norton, and guitarist Billy Moran. The group's emotionally charged, exhilarating lyrics about overcoming obstacles and turning one's troubles into redemption are steeped with rock & roll swagger.
Supernatural Connection
Benedict played the character of Chuck Shurley on Supernatural. In one of the show's dramatic twists and turns, he ends up being God and is one of the main antagonists the Winchester brothers square off against.
The music video for "There's The Rub" stars Benedict's Supernatural co-star Kim Rhodes and was directed by Borja. The band has a number of tour dates lined up in 2023. The shows are in conjunction with Supernatural conventions across the country and will feature multiple performances throughout the three-day events.
Connect with Louden Swain at their official website or follow along on Instagram and Twitter. Anyone who pre-orders the album before November 5th will get an autographed copy (while supplies last).
Tracklist: Feelings And Such
Wine And Roses
Guilty One
Gimme Some
Bring It In
Bottle You Up
Next To The Light
There's The Rub
Crystal Ball
Bonafide
King Of Silverlake
Every Little Thing
One Of Those Things
Sleepyhead
Are you enjoying MendoWerks Magazine? Receive updates each week directly in your inbox. Sign up for the newsletter here.
About Author