Brooklyn-based alternative rock band Superbloom is set to release its new EP Life's A Blur on June 8th. The quartet consists of Dave Hoon (vocals/guitars), Tim Choate (guitars), Brian DiMeglio (bass), and Matteo Dix (drums).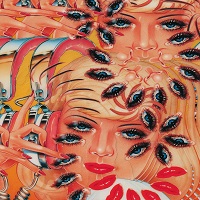 The forthcoming EP is a conscious progression from their 2021 debut album Pollen. The songs on Life's A Blur have a noticeably harder edge. Listeners will discover a band that is reaching greater depths of sound through dynamic, varied songs and interludes. The EP retains Superbloom's signature hooks, dreamy tones, and infectious bouncy rhythms as their progression as songwriters is on display.
Superbloom In The Studio
Life's A Blur was produced by Superbloom, recorded by Brian DiMeglio at Brooklyn Recording Paradise, and mixed/mastered by Zach Tuch. The trippy album art is by Houston-based psychedelic artist, Patrick Turk.
With the new EP, Superbloom takes its sound to new sonic dimensions and dynamics. The band's unapologetic sound and unrelenting passion for music are testaments to their success story of never giving up on their dreams.
Fans can pre-order the vinyl through Superbloom's online store. They've also announced an EP release show at Brooklyn Made on June 10th, with additional shows to be announced soon.
Connect with Superbloom:
YouTube | Spotify | Facebook | Instagram
Are you enjoying MendoWerks Magazine? Receive updates each week directly in your inbox. Sign up for the newsletter here.
About Author