Post-metalcore quartet Crown The Empire has released its latest single from its upcoming fifth studio album. "Black Sheep" will appear on Dogma and is set to be released on April 28th via Rise Records.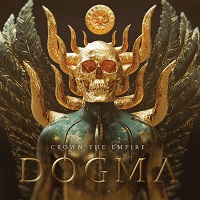 According to the band's vocalist, Andy Leo the new material takes the band back to their early days of playing together in a garage with a "fuck you" attitude. The track is full of in-your-face energy that their younger selves would have loved. "Black Sheep" is a departure from the lofty ideas tackled in their previous releases and offers a more honest and direct perspective.
Dogma was produced and mixed by Zach Jones, he's known for his work with artists like Fever 333, Poorstacy, and Nova Twins. The album is a diverse collection of songs that reflects the band's introspection on personal and collective priorities over the last three years.
Getting To Know Crown The Empire
Crown The Empire comprises vocalist Andrew "Andy Leo" Rockhold, guitarist Brandon Hoover, bassist Hayden Tree, and drummer Jeeves Avalos. The band will be hitting the road this spring to support Texas hard-rock band Nothing More. They have also announced a handful of dates this summer with Falling In Reverse and Ice Nine Kills.
"We brought back the classic elements of Crown without taking anything away from what we've done more recently. The high-energy, fast-paced, hard-hitting riffs, with the band's more melodic side, mashed together into an updated sound."

Hayden Tree
As a genre-bending metalcore band, Crown The Empire continues to push boundaries and explore new ideas. With Dogma, the band offers a unique and honest perspective that is sure to resonate with fans.
Connect with the band:
Website | Twitter | Facebook | Instagram
Tracklist: Dogma
DOGMA
Black Sheep
Modified
Paranoid
In Another Life (feat. Courtney LaPlante)
Superstar (feat. Remington Leith)
Dancing with the Dead
Immortalize
Someone Else
Labyrinth
Are you enjoying MendoWerks Magazine? Receive updates each week directly in your inbox. Sign up for the newsletter here.
About Author