Jukebox the Ghost is set to release a deluxe version of their 2022 studio album Cheers. The piano pop trio is known for its catchy and clever pop songs with theatrical undertones. The deluxe version features four new piano interpretations and two new tracks and is set for release on April 7 via BMG.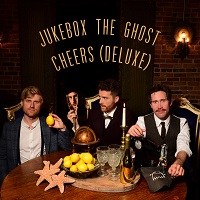 "We wanted to add tracks to the deluxe version that felt like they were already part of the album," says Jukebox The Ghost. "Costume," in particular, is "a natural fit for the deluxe because it's got the mix of old Jukebox The Ghost energy and modern production and taste."
The self-produced sixth studio album is a toast to surviving and thriving in the face of hard times. You'll find memorable choruses, cheerful melodies, and Freddie Mercury-esque vocals woven throughout. The album sees the band combine the hip-hop-influenced energy of Twenty One Pilots, the modern piano balladry of Andrew McMahon with the joyful energy of Walk The Moon.
Getting To Know The Band
The band, composed of Ben Thornewill (piano/vocals), Tommy Siegel (guitar/bass/vocals), and Jesse Kristin (drums/vocals), formed in college in 2006 and has been a steadily growing cult favorite and a globally touring band ever since. Along with the album announcement, the band dropped a new music video for "Brass Band." Thornewill shares some insight.
We filled the streets with a horse, dancers, a local circus, a full brass band, a staged car crash, and fans that flew in from all over the country – even Hawaii! – to be part of the shoot. The video is all in reverse and is filled with easter eggs that reward rewatching and is of a scope that is unmatched by any other Jukebox The Ghost music video.

-Ben Thornwell
Catch the band on the road this spring, tickets are available now through the official Jukebox The Ghost site. Connect with Jukebox The Ghost.
Website | Twitter | Facebook | Instagram
Tracklist: Cheers Deluxe
Century in the Making (intro)
Hey Maude
Wasted ft. Andrew McMahon in the Wilderness
Ramona
Million Dollar Bills
I Got A Girl
Us Against the World
Brass Band
The Machine (intro)
Everybody Panic
Move Along
Raise a Glass (interlude)
How the World Began
Cheers!
Costume
Wasted (Piano Instrumental)
Ramona (Piano Instrumental)
Us Against The World (Piano Instrumental)
Brass Band (Piano Instrumental)
Are you enjoying MendoWerks Magazine? Receive updates each week directly in your inbox. Sign up for the newsletter here.
About Author