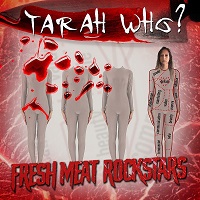 Tarah Who?'s new single and music video "Fresh Meat Rockstars" is available now everywhere you listen to music. The driving rock track addresses the relationship between bands and the attitude some musicians have towards one another.
Tarah G. Carpenter, the band's lead vocalist, and guitarist collaborate with guitarist Jason Orme, who plays the guitar. Carpenter explains that despite different backgrounds and experience levels, all musicians can learn from each other.
The music video for "Fresh Meat Rockstars" is a compilation of footage from the band's tour, giving viewers a glimpse of the energy behind the scenes. The song was produced by Carpenter, Orme, and Norm Block and recorded and mixed by Block.
We had a chance to catch up with Carpenter to get more insight into her journey to becoming a U.S. citizen, the inspiration behind the new single, and any advice she could offer up-and-coming musicians.
Being of Vietnamese descent and growing up in France, how long have you been a U.S. citizen? Could you tell us about that journey?
As I was going through it, I didn't realize how long it actually took for me to become a US citizen. I knew I wanted to have both citizenships and I was working my way toward it. The green card was already a big step, then I applied and passed the US citizenship test. I traveled for the first time with both my US and French passport on the last tour, it was very useful I must say!
We understand you still play drums but how did you evolve from a drummer at a young age to the guitarist/frontwoman you are now?
I really wish I play more drums and bass, to be honest! The guitar and singing is because I have a lot to say and that is what I am promoting the most right now. It takes a lot of energy, time, and money just to be in one project. I would love to be involved in other projects but I could not commit myself to something that would require the same amount of time as Tarah Who?. I write all the songs and make demos for each song before I go into the studio so I still play, and when I have time I play drums or bass with or for other people. Really enjoy doing that because when it is not my project, I don't have all of the behind-the-scenes pressure. I can just come, play and enjoy!
Tell us about the inspiration behind "Fresh Meat Rockstars".
"Fresh Meat Rockstars: is about the relationship between bands we meet on the road. The best experiences in my opinion are when you love the music AND you get along with the people who are playing it! Maybe you can end up playing shows together, collaborating, or just having a great time and supporting each other when you end up in the same cities.
Unfortunately, just like any type of relationship, sometimes those feelings are not reciprocated, but I do believe that everything happens for a reason. You don't necessarily know it at the time, but it will reveal itself, and then you will think "oh that's why…" we met… When I wrote "Fresh Meat Rockstars", I had a specific experience in mind, but as I was on tour and met more musicians and people, I realized that it could be a lot of bands' stories. We all have started somewhere, at some point, and to someone, you are "Fresh Meat" and you have a lot more to learn. It could be a generation thing, where you are in your career or anything…
How about the music video for the song, how did that come about?
TGC: I wanted to show the behind-the-scenes of being on tour. When people ask me "how was the tour," or "tell us stories"… I never know what to say. Going on tour is really an experience. It is not for everyone. There is nothing glamorous about it, really, but we, the band members, really get to know each other and go through a lot in such a short amount of time.
When the tour is over, and you go back home, it is always nice to go back to your house, animals, family, BED, and what have you… but then after a few days.. You just crave it again. We had some footage from our Berlin show, so I thought I would use that and add some footage of us being us. We are not Rock stars, we are just people who love playing music, and we support each other in doing it.
How would you describe your music to someone who is just discovering you for the first time?
TGC: I would say that it is an infused punk, rock, and grunge sound with autobiographical lyrics or a heavy and dirty version of a singer-songwriter.
Tarah Who? Definitely has its own sound and authenticity. I am not writing to sound like anyone, I write because it is therapy, and playing loud rock 'n' roll music and screaming it, is truly liberating.
What is some advice you'd offer to someone just coming up on the scene?
It depends…there is so much to say… for instance: – is this really what you want to do? Because it is going to be hard, but you are going to have a lot of fun. You will run into a lot of situations and that's ok, that's how you learn and get to where you actually want to be.
Don't expect anyone to do anything for you. Music is business, no one just likes you or likes your music. Someone will help you if you can make them some money or pay them. Don't be fooled by the words and chit-chat.
Know why you want to go onstage. Do you want fame or do you have a message?
Believe in yourself. If you don't believe in yourself, how do you expect anyone else to?
but also… sometimes you are surrounded by people who think they know what is best for you, but it might not resonate with who you are. Recognize the advice that helps you and the ones that hurt you.
Find your team
Don't give up
Connect with Tarah Who? :
Website | Facebook } Twitter | Instagram | YouTube
Are you enjoying MendoWerks Magazine? Receive updates each week directly in your inbox. Sign up for the newsletter here.
About Author