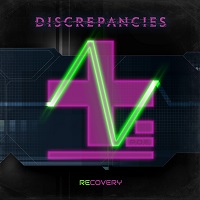 St. Louis-based rap/rock band Discrepancies has released a new single from their upcoming EP. "Recovery" offers a sneak peek into Product Of Entertainment. The single, along with its official music video is available now via InVogue Records.
According to vocalist Antonio Metcalf, "Recovery" is an extension of their previously released track "Not Alone." It offers listeners a more specific version of their message by letting them know that they are not alone in their struggles. While reinforcing the fact that others have walked through the same darkness and found their way out.
Getting To Know Discrepancies
Comprised of Garrett Weakley on bass, Addison Bracher on guitar/vocals, Brandon Bollinger on guitar/vocals, Marc Lyle on drums, and Antonio Metcalf on vocals, Discrepancies has managed to form a powerful and innovative sound. They combine heavy riffs with intense lyricism and blend various genres to create a unique soundscape that is guaranteed to grab your attention.
Discrepancies signed with InVogue Records in January 2018 and released "The Awakening" in March of the same year, garnering over a million streams in its first week. In January 2020, Discrepancies released "Control" from their second LP, The Rise. The track has now reached over 3 million views and streams and continues to gain popularity. The band released four more singles throughout the 2020 global pandemic, staying active and connected with their fans.
Discrepancies aim to inspire their listeners to form their own opinions without judgment, connecting with people on a deeper level through their music. The band has announced a handful of dates with Until I Wake and a spring tour with Outline in Color and VRSTY in support of the Product Of Entertainment release.
Discrepancies Tour Dates:
w/ Until I Wake
3/16 – West Chicago, IL @ WC Social Club
3/17 – Urbana, IL @ The Canopy Club
3/19 – Lakewood, OH @ The Winchester
w/ Outline in Color, VRSTY
4/28 – Nashville, TN @ The Cobra
4/29 – Chicago, IL @ WC Social Club
4/30 – Detroit, MI @ The Sanctuary
Headline
5/2 – Indianapolis, IN @ Hoosier Dome
5/3 – Pittsburgh, PA @ Preserving Underground
5/4 – Buffalo, NY @ Mohawk Place
5/5 – Frenchtown, NJ @ Arties Bar and Grill
5/6 – Baltimore, MD @ Angels Rock Bar
5/7 – New York, NY @ Meadows
5/8 – Providence, RI @ Alchemy
5/9 – Manchester, NH @ Jewel
5/11 – Harrisburg, PA @ HMAC
5/12 – Louisville, KY @ Habana Blues Night Life
5/13 – Memphis, TN @ Growlers
For more information visit their official website. Follow along on Instagram and Twitter for additional updates.
Are you enjoying MendoWerks Magazine? Receive updates each week directly in your inbox. Sign up for the newsletter here.
About Author