Pistols At Dawn, the Atlanta-based hard rockers who have been turning heads with their powerful sound, are set to hit the road with a vengeance this spring. They'll be joining forces with the legendary Ugly Kid Joe and the unstoppable Fozzy on the 'Rad Wings of Destiny' tour.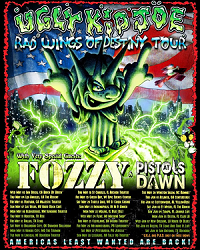 Kicking off on May 3rd in San Diego, the tour will take them across the country, with stops on the East Coast before wrapping up on June 10th in San Antonio, TX. Tickets for this unmissable event are on sale as of Friday, January 20th at 10 AM.
This marks the first full U.S. tour for Ugly Kid Joe in nearly three decades. They initially broke up in 1997 but reformed in 2010. Since then they've released two albums and played a handful of festival shows.
Pistols At Dawn Reacts To Major Tour Announcement
'We're beyond thrilled to join this incredible coast-to-coast tour,' says Pistols At Dawn drummer Adam Jaffe. 'It's an honor to be on such a killer bill with Ugly Kid Joe and Fozzy, two of the most talented and rocking bands out there. We're going to bring our A-game to every single city on the tour.'
Pistols At Dawn's career has accelerated in recent years. Their lead single 'The Truth' from their debut album ASCENSION went Top 40 on the Billboard Active Rock chart. They recently delivered a second single, 'Under The Surface,' which you can view/listen to below. The album was produced by the Grammy award-winning Sylvia Massy and mastered by Maor Appelbaum.
Getting To Know Pistols At Dawn
The band consists of Adam Jaffe (drums), Devin White (guitar), Cris Hodges (vocals), Will James (bass), and Sean Benham (vocals). They released their debut EP Nocturnal Youth in 2021. recorded with producer Jeff Tomei (Smashing Pumpkins, Matchbox 20). In 2022, they signed to Megaforce Records/MRI Entertainment, who released their debut album ASCENSION.
Pistols At Dawn will also be supporting Alter Bridge and Mammoth WVH from March 10-31, with full dates available at their official website.
Are you enjoying MendoWerks Magazine? Receive updates each week directly in your inbox. Sign up for the newsletter here.
About Author