Attention, fellow emo-to-EDM-pipeline kids: we have some news for you. Yesterday, Third String Entertainment and Disco Donnie Presents announced a new partnership company, Disco Punk. This partnership company will be in charge of curating Texas-based events Unsilent Night and So What?! Music Festival from here on out.
Along with the announcement of the Disco Punk collaboration came the release of 2023's So What!? dates. Read on to find out more.
Disco Donnie Presents & Third String Entertainment's So What?! Fest: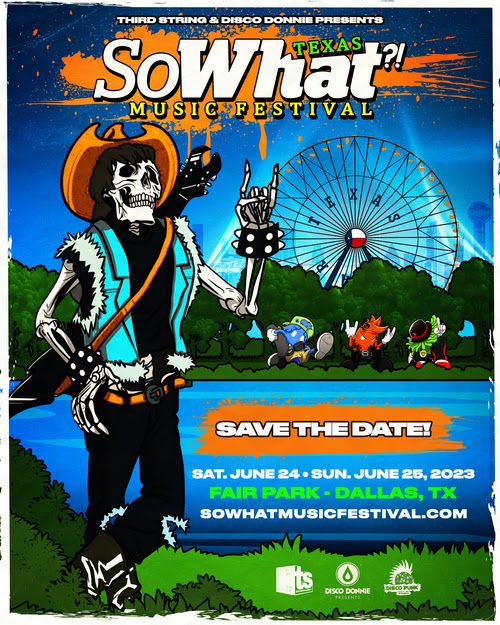 So What?! Music Festival:
So What?! music festival is going to take place on June 24-25 at Fair Park in Dallas. The festival was originally founded in 2008 by Mike Ziemer and Orlando Mendoza of Third String Entertainment, with the goal to blend together the different sounds coming from pop-punk, rock, and metal. Since then, the festival has rapidly grown in both size and representation, now hosting artists from the hip-hop and rap scenes as well.
So What!? has been referred to as the "biggest emo festival" and was the first festival to host artists like A Day To Remember and Bring Me the Horizon. Other past headliners include 100 Gecs, Blackbear, and G-Eazy.
Tickets are on sale January 31st and can be found on the festival's website.
Disco Donnie Presents & Third String Entertainment
Disco Donnie Presents is the leading independent promoter in Texas, but is a name known to many in the global EDM space.
Since its inception in 1994, the Disco Donnie Presents has been focused on promoting electronic music by way of producing over 18,000 shows in over 100 cities worldwide. Some of DDP's Texas-based events include Ubbi Dubbi, Freaky Deaky, and Lights All Night.

Speaking on the partnership with Disco Donnie, Mike Ziemer of Third String Entertainment has said:
"I think the overall experience for both artists and fans will be the best it's ever been. Just like us, Donnie takes pride in making sure no corners are cut with both and seeing the way he has brought so many great festivals to life is inspiring. His festivals always incorporate well thought out activations and interactive art and other things that we would love to begin including in ours"
Third String Entertainment, on the other hand, is primarily focused on the alternative rock and metal scenes; in addition to producing events, this group also has two recording studios and a creative space located in Dallas.
Some of Third String Entertainment's other events include Identity Music Festival, Riot Fest, and Fun Fun Fun Fest.
Speaking on Third String's brand, Disco Donnie has said:
"Third String Entertainment's brands have a lot of potential and could be fixtures around the US in markets we currently operate in. I see a lot of myself in Mike and Orlando and nurturing independent promoters and providing a venue for up-and-coming talent is important to me. I believe our partnership will help develop the SoWhat?! Music Festival and Unsilent Night brands to their full potential. I also think they can teach us a lot, as well."
This collaboration isn't much of a surprise, if you think about it.
There are some similarities between the fans who attend EDM festivals, like DDP's events, and rock shows, like Third String Entertainment's events. This is something that is noticeable even at smaller electronic shows, like wave music events. Outside of certain aesthetics–like fans who often show up wearing all black–a common thread between each scene is a sense of community and love for experiencing the music together.
While the EDM crowd has an explicit culture of love and community that addresses this ("PLUR", anyone?), we wouldn't have things like "mosh pit etiquette" being outlined online, or an "Emo Nite" popping up in nearly every city at this point, if the rock kids didn't also feel a certain way about their peers.
Plus- for what it's worth?
Things like this exist, and I think that's just beautiful:
Keep Up With Your

Faves

:
Follow Disco Punk:
Facebook | Instagram | Twitter
Follow Third String Entertainment:
Website | Facebook | Instagram
Follow Disco Donnie Presents:
Website | Facebook | Twitter | Instagram
Follow So What?!:
Website | Facebook | Instagram | Twitter
About Author