Indie alt-rockers Wilderado has released a remix of their latest single "Sure Fire". The reimagined version of the track features Gus Unger-Hamilton of alt-J. The two bands spent time on the road together last spring which ultimately led to the collaboration.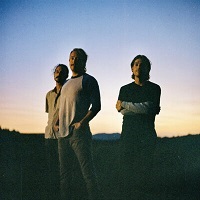 In addition to the single drop, Wilderado has announced two-holiday concerts with Silversun Pickups. The Christmas Concert takes place December 5th while the Ugly Sweater Party happens December 13th. More information on those shows and their remaining headline tour dates can be found here.
It's been a breakthrough year for Wilderado after releasing their debut album last fall. "Head Right" and now "Sure Fire" has seen success on radio stations across the country. They recently performed on CBS Saturday Morning's "Saturday Sessions" and made their late-night debut earlier this year on Jimmy Kimmel Live!.
Wilderado Remix
Unger-Hamilton plays keyboards and sings with alt-J. They released their fourth studio album The Dream in early 2022. They're coming up on the 10th anniversary of the release of their debut album An Awesome Wave and will be celebrating with a special live stream on October 19th.
The remix adds a new dimension to "Sure Fire". The original is straight-up indie rock while the new version adds an electronic edge to the song. Which version do you prefer? Let us know in the comments section below. The original can be found here.
Stay connected with Wilderado at their official website or follow along on Instagram and Twitter.
Are you enjoying MendoWerks Magazine? Receive updates each week directly in your inbox. Sign up for the newsletter here.
About Author