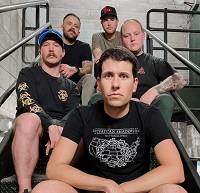 San Francisco-based band Greyed Out has released a new single and B-side. "Broken Like An Arrow" and "No Dice" are available now via Negative Progression Records.
Greyed Out is a melodic pop punk band comprised of former members of This Time Next Year and Pale Chalice. They self-released an EP in December 2021 and their growth as songwriters and performers is on display with the new material.
"Broken Like An Arrow"
"Broken Like An Arrow" is a mid-tempo journey with guitar riffs honoring the late 1980s/early 1990s alternative genre more broadly. Frontman Pete Dowdalls had this to say about the meaning behind the song.
There is solace in solitude. Become comfortable with being uncomfortable. Isolation builds character and there is nothing more important in this world.
"No Dice" is shorter and packs more of a punch. It's a continuous blast of energy that's sure to whip audiences into a frenzy. You can preview both tracks here.
Return of Negative Progression Records
Founder Seth Hyman started Negative Progression Records in 1996 to "help introduce the bands that I loved to the world". He started from scratch and invested everything he made into the label and bands he worked with.
NPR went on to sell more than 100,000 albums and even hosted a stage at the 2003 Vans Warped Tour. Until the recent relaunch, Hyman has spent the last eight years focusing exclusively on his career as an attorney. Greyed Out's single launch is just the second release for the newly revived label with more music on the way.
Stay connected with Greyed Out by visiting their Linktree or following along on Instagram.
Are you enjoying MendoWerks Magazine? Receive updates each week directly in your inbox. Sign up for the newsletter here.
About Author