The dynamic duo of Rome & Duddy are making waves with the release of their new music video and highly anticipated winter tour dates. Best known for their work with Dirty Heads and Sublime, "Cannabis Tree" is a breath of fresh air (musically speaking).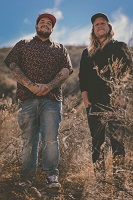 Rome & Duddy first collaborated back in 2008 on "Lay Me Down" by Dirty Heads. The song went on to set records for being one of the most successful independent single releases of all time. It held onto the #1 position on the chart for nearly three months. More recently the duo has been hosting a podcast and earlier this year released a line of CBD products via Consequence.
Cactus Cool EP
The new EP Cactus Cool is expected to drop in March of 2023. Despite their close friendship Rome & Duddy haven't released much music together. That's with the exception of the release of a few covers. In 2020 they released a cover of Van Morrison's "And It Stoned Me" and in 2021 "Lahaina" featuring Jim Messina.
Rome and Duddy will be the duo that brings feel good music at the best time when the world needs it the most. So grab your Lahaina Cocktail and sit back and enjoy the ride.

-RomeandDuddy.com
Tickets to the Winter Moon Tour are on sale now and you can connect with them at their website for more information. Follow along on Instagram and Twitter for more updates.
On Tour: Rome & Duddy
NOV 25 FRI Skydeck – Nashville, TN, United States
NOV 26 SAT Buckhead Theatre – Atlanta, GA, United States
NOV 27 SUN Cone Denim Entertainment Center – Greensboro, NC, United States
NOV 29 TUE The Key West Theater – Key West, FL, United States
NOV 30 WED Culture Room – Fort Lauderdale, FL, United States
DEC 1 THU Ponte Vedra Concert Hall – Ponte Vedra, FL, United States
DEC 2 FRI Ace Cafe Orlando – Orlando, FL, United States
DEC 3 SAT Filthy's Fine Cocktails & Beer – Vero Beach, FL, United States
DEC 6 TUE Temple Live – Fort Smith, AR, United States
DEC 7 WED TempleLive at Wichita Scottish Rite Center – Wichita, KS, United States
DEC 8 THU Ogden Theatre – Denver, CO, United States
DEC 13 TUE Rialto Theatre – Tucson, AZ, United States
DEC 15 THU House of Blues San Diego – San Diego, CA, United States
DEC 16 FRI Orpheum Theater – Flagstaff, AZ, United States
DEC 17 SAT Marquee Theatre – Tempe, AZ, United States
Are you enjoying MendoWerks Magazine? Receive updates each week directly in your inbox. Sign up for the newsletter here.
About Author