Irish indie pop-rockers The Coronas will release their seventh studio album this fall. Along with the release of TIME STOPPED they'll return to the US for a number of shows as part of their upcoming world tour.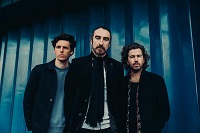 The band was around long before the pandemic set in. But it's certainly unfortunate they share a common name with COVID. They'll address it head-on with the release of TIME STOPPED on October, 7th with an album full of hopeful music.
Check out their latest single "Strive" and let us know in the comment section what you think. We're enjoying the distinctly 1980s groove. And we're a sucker for synths and saxophone solos so this one is going right onto the playlist.
In Studio
Lead singer Danny O'Reilly, guitarist Graham Knox, and drummer Conor Egan came together and recorded at Eastcote Studios in London. They worked with producer George Murphy (Mumford & Sons, Ellie Goulding) and Grammy-winning mixer Peter Katis. O'Reilly offered up some insight into the bands' inspiration at the time.
"When everything is suddenly upside down, relationships and our place in the world are given a new perspective. Even though it came together in an uncertain time, TIME STOPPED is a positive album about togetherness and support." 

Danny O'Reilly
The Coronas On Tour
The Coronas' previous release TRUE LOVE WAITS was their most successful album to date internationally. They'll look to continue their forward momentum with an upcoming world tour. Kicking off in late September in Scotland, they'll make their way to the U.S. for shows in New York, Chicago, Los Angeles, and beyond in early November.
They'll close out the year with a four-night run at Dublin's Olympia Theater which will mark their 60th consecutive sold-out show at the venue.
For tour information visit The Coronas' official website. For additional updates follow along on Instagram and Twitter.
Tracklist: TIME STOPPED
Intro (DYSYIL)
Don't You Say You're In Love
Write Our Own Soundtrack
If You Let Me
The Best Worrier
Strive
Karma
At Least We'll Always Have LA
Take Me With You If You're Leaving
Getaway Car
Blessed to Call You My Own
Time Stopped
Enjoying MendoWerks Magazine? Receive updates each week directly in your inbox. Sign up for the newsletter here.
About Author