Grammy-nominated bassist, producer & songwriter Stu Brooks is celebrating a solo record deal with the release of a brand new single. "Sound The Alarm" features Patrick Stump of Fall Out Boy. The track will be featured on his new album The 40HZ EP.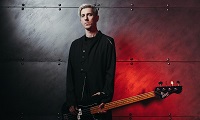 The EP is stacked with special guests like Stump, Angelo Moore, Jason Aalon Butler, and Paul Leary. Known for his work as co-founder of Dub Trio and as an in-demand road and studio musician, the record deal with Dine Alone Records is Brooks' first as a solo artist. "Sound The Alarm" began as an instrumental but evolved over time. Reggae and punk influences can be heard weaving their way through the song.
Brooks had this to say, "I took these two genres and tried to tie them together into a song. Between the chorus groove and verse groove, there are abrupt stylistic transitions that I think have the effect of pulling the rug from under you".
Stu Brooks Connects with Patrick Stump
Patrick Stump is known for his work as lead vocalist for pop punk icons Fall Out Boy. When asked about his contributions to the song, Stump explains that the two are good friends and he has a deep level of respect for him as a musician. As it evolved from an instrumental to one with vocals, he added that the song became an opportunity for them to vent their anger and horror at the state of the world.
The 40HZ EP is available on December 8th and leans on inspiration from a number of different genres.
I find commonality in all types of music, and, I'm always trying to string different genres together. I believe there's a way to thread dub, reggae, punk, hip-hop, trap, industrial, experimental jazz, and rock altogether. I'm drawing on all of these influences. I always hope my music will be a cathartic experience. Maybe you're able to release an emotion and, when you're done listening, you've changed a little bit.

Stu Brooks
Having performed with stars like Lady Gaga, Mike Patton, and Redman, he continues to break new ground as a producer and writer. Earlier this year he worked with Perry Ferrell and Fever333. He also played bass and produced remixes on Danny Elfman's Big Mess as well as performing with his live band.
For updates connect on his Facebook or Instagram pages. Let us know what you think of the song in the comment section below.
Tracklist: The 40HZ EP
Sound The Alarm (feat. Patrick Stump)
Frontline (feat. Angelo Moore)
MOB Music (feat. Jason Aalon Butler
Live Nude Pigs (feat. Paul Leary and Fake Legs)
Don't Really Care (feat. N8NOFACE)
Enjoying MendoWerks Magazine? Receive updates each week directly in your inbox. Sign up for the newsletter here.
About Author