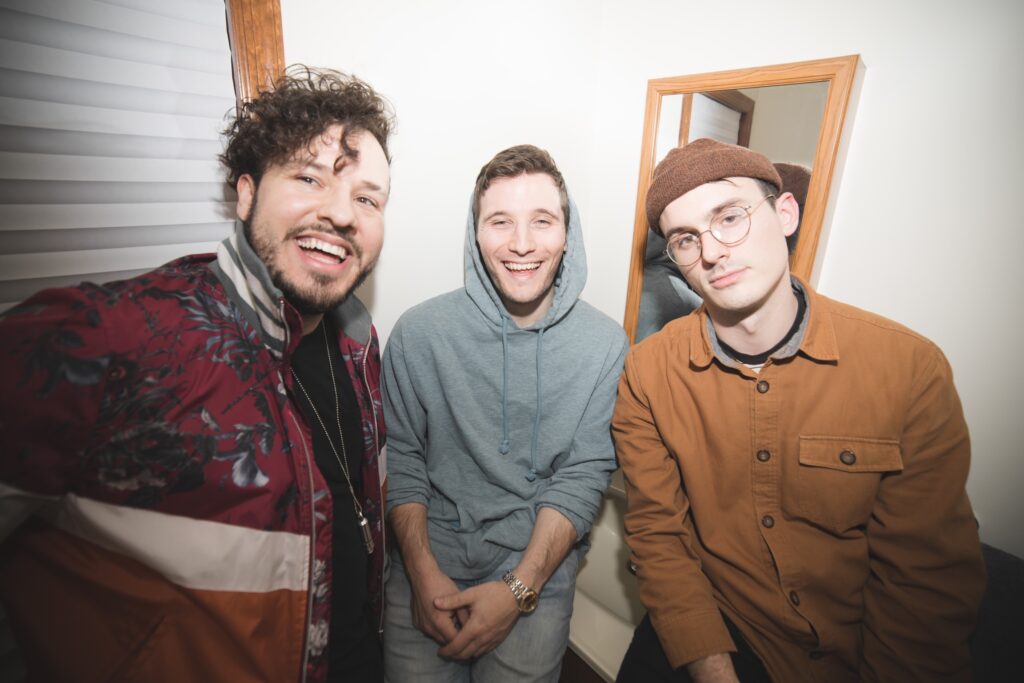 ---
"Life is good. And we're never going to take this– you know, playing live music– for granted ever again. You never know what show is going to be your last show."

Joshua Perna
---
Saint Slumber, the patron saint of synergy, corn, and phenomenal tunes, is gracing us with yet another summertime banger.
Check out these teasers of "HALLELUJAH (NOTHING MATTERS)" from the band on TikTok and find out why I'm so excited about this. I can already tell it's going to be an absolute bop.
Be sure to stick around after for some other updates from 'the best band you've never heard of', including the transcription of a little chat between us all at The MilkBoy in Philly from earlier this summer.
The Prayer of Saint Slumber: HALLELUJAH, NOTHING MATTERS!
Find the pre-save link here. Below is a YouTube embed of the whole track– keep an eye out for its premiere!
---
Saint Slumber's Philadelphia Eras–from NO DUH. to HALLELUJAH.
Fantastic new music isn't the only thing that Saint Slumber has been up to.
(Although, if you haven't checked out "NO DUH." yet. I implore you to do so right now….)
On August 27th, you'll find the band at The Foundry in Philly. Get your tickets here. They are among the support for Louyah– it should be a really great time.
Having seen Saint Slumber live twice this summer, you can trust me on that. It would be worth it to go for them alone.
That is something that is actually touched on during our roundtable talk after their last Philly show, back in June–the fact that no distance is too far to travel for a chance to go to a Saint Slumber show.
Perhaps we should dive into all that–
But first–
Don't forget to pre-save the new single…. it will have you shouting "HALLELUJAH!" all weekend for sure.
The Milkboy Tapes
Let me catch you up to speed:
Imagine one of the smallest bars you've ever been at.
Now imagine it's kind of bougie; there's live music blaring from the attic. You are sitting at a table with some pals–like Ray!–from the Discord server you practically live in, and the members of Saint Slumber–who, one by one, fill the table around you.
Josh, then Rick, then Steph and Aaron.
The vibes are somewhere between exhilarating, because of the company, and overstimulating, but that's probably just from all the noise–clanging of dishes, bursts of bar conversation… and, y'know, the concert that's still happening above you.
You have not slept for about two days. Y0u are mildly sunburnt.
At this point, you don't know if your shitty pocket mic from Amazon or your cellphone will get a better recording in this setting, so you put both on the table.
You end up with two glasses of water somehow.
You're me.
Are you ready to hang with 'The Kings of New Jersey'?
Let's go.
---
AM: Okay, Josh, tell me how did it feel doing your first show in 834 days? That's what you said it was, up on stage, right?
Josh: 834 days, give or take NONE!
Because I did the math.
Uh- wow. Yeah.
(We take a beat.)
Josh: Well, I'm very sweaty. [laughs] I'm very tired. And I'm exhilarated.
I definitely would use the word exhilarated.. […]
I kind of was afraid it was gonna go away. You know what I mean?
I spent… I think I played a show almost every week since I was seven years old. I've been performing for a very, very long time.
So to take two years off, extra? I was kind of afraid I was going to lose that muscle–like that muscle would atrophy, or something.
Which– it feels very good to get up there and realize it's just like riding a bike.
AM: With today as a starting point, how are you feeling about the return to live music as a whole?
Josh:: That feels like a very loaded question. Mostly because, obviously, the return to live music has a lot to do with a lot of different factors that I've learned are out of my control entirely.
But if tonight's any indication, it's like–people are joyously back in the room together. And that's all I can really ask for at this point.
AM: I suppose what I more-so meant is, with tonight in mind, how did it feel to be back on stage? How are you feeling about your return to live music– your other upcoming shows, like in Brooklyn?
Josh: That's our next show, in Brooklyn, yeah. I feel ready.
I feel as if the first [show back] was definitely the hardest, because you think about it forever.
Now that we've worked out all the kinks, and we have all the new music on stage for the first time, I feel very ready for the rest of the year's shows.
The biggest thing is, like–this was Steph's first show. It was his first time on stage with us. So that's big.
And 80% of the set has never been played on stage before, which is crazy.
So now that we're over that hump, I feel ready for the rest of the shows.
AM: On the note of new music, I do gotta ask– where is the "DOOMY" representation?? Why no "DOOMY" on the setlist?
Josh: "DOOMY" is actually a very difficult song to get on stage.
And also, we have, at this point, a catalog that's too big to play.
For the first time ever, really. We have too much music, which is a very cool novelty. It's a cool problem to have. Because now we can really pick the best of the best.
Even up until the last show that we played in 2020, we were putting songs in that we kind of don't love playing…? But we need to play because we need to play for a certain amount of time.
So this was the first time where it's like…. We're shaving away songs that are really good.
That's a cool problem to have.
Josh: "DOOMY" might make it to stage one day.
I want to start crowdsourcing the setlist. We brought the topic of crowdsourcing–like, by poll–up on our Discord. Let the community decide what we're going to play live.
So maybe "DOOMY" makes it onto the setlist? I dunno. We'll find out.
…Yeah, I'm not opposed to it, but it's definitely a tough song to get going.
AM: That's one heck of a creative solution–regarding "DOOMY", and your setlists. I gotta say though– when I heard it for the first time, my only thoughts were 'I want to hear this consume me, in a room, live, at a show, one day'. [laughs]
Josh: One day, it'll happen. It's not off the table.
AM: My last one for you is– what is a goal that you guys have for the next live show? Was this a learning experience at all?
Josh: Now that we are very comfortably back, it's all about expanding the experience. We'd like to pick songs where each one is bringing something different to the live experience. […]
We want to be able to bring an experience that's very fresh; we don't want to play two songs that kind of accomplish the same thing. We want to create, like, a narrative, a journey. A sort of peak and valley experience when it comes to [doing shows].
So, I think we just want to expand the experience–whether that's like bringing on acoustic moments, or bringing on more, like, acrobatics? You know what I mean? We want to be able to just have a very diverse experience. That's our goal.
AM: Well, on the note of a fresh experience– on the fan side, tell me, Ray, how excited were you to finally see a Saint Slumber show after three years of a pandemic? How was the energy tonight?
Ray: It was AWESOME!
I haven't been to any show at all in the last, y'know, two or so years. I actually wouldn't usually drive all the way out to Philly because I would rather be closer to home, but it's worth it to come see Saint Slumber and support the boys, every single time.
It's always fun.
It's the only reason I'd come to Philly [laughs].
AM: How far did you come from, if you don't mind my asking?
Ray: Like, the far end of New Jersey.
AM: Oh wow.
Ray: It was also cool to get to see Stephan play.
Because he's like–he's got such big energy. He's so fun all the time, has such a good attitude, like, outside of the stage.
I think he's a great guy and he did a great job.
AM: Do you have a favorite moment from the night that you'd like to share? Or something that surprised you?
Ray: I think "Loverboy" hits a lot different on stage. [general overlapping group consensus]. It hits a lot harder on stage. it was really good.
Ricky, jumping in: It was distracting me from doing my job! [laughs]
Mostly because like, half the stage got knocked over while you were doing it.
(At this point, our quiet-ish corner of the bar became overwhelmed with noise; there's just overlapping voices and bar sounds on the recording, interjected by a group discussion about their drum bit, our bodies not working the ways we're used to, and becoming "geriatric" at the ripe old age of… our mid-late 20s. Eventually, the noise dies down enough to resume.)
AM, to Ricky; How was it tonight on your end? How was shooting?
Ricky: I feel rusty! I feel like I'm still adjusting to being around so many people.
I actually went to the first concert that I've been to, like two weeks ago, I think? To see the Lumineers play. And I was like, there. And I had this moment where I realized, I am at a concert. And there's like 100's of people around me. For the first time in–a while.
So I think today– I'm thinking about it now, I wasn't thinking about it while I was, like, in the room– but–
I feel like I'm not as comfortable weaving in and out between them while they're playing [as I used to be]. The stage was kind of small, though, so there's that, and that makes it hard, too.
Other than that, it was fun.
AM: Do you have a goal for Brooklyn? Or anything you'd do differently?
Ricky: It's always rewarding when they can play like at like, a really nice venue, with really good lights or a really nice stage, or something like that. It's always rewarding to have a nice image at the end of it all.
I'm a photographer more than I do video stuff– I do video because it's productive for the band, but like, when there's just like a really nice picture at the end, after trying to get everything set up–figuring out lighting, where to take it—after all that? That's why I really enjoy doing it.
Because, ultimately, every once in a while something comes up that makes you feel really good about what you're doing.

AM: Were there any creative solutions you had to come up with on the fly tonight while you were getting your footage?
Ricky: I don't think there were any creative solutions because I decided not to try to take pictures; I thought I was gonna do video and then pictures, but I would have had to try to make too many creative solutions to get a nice photo. Hopefully. [laughs]. So I was like, nah! There's always next time.
AM: And how about you, Steph? Congrats on the first show, by the way – how did it feel?
Steph: It felt amazing!!
Honestly, I was super nervous, but I was nervous to, like, mess up the little things a little bit?
But we didn't mess up, like, one thing!!
So that felt really good.
But I'm the most tired I've probably ever been in the past three years–so I really worked my booty off [laughs].
So it feels great! But I'm so tired. And ready to EAT! [laughs].
AM: Aaron? How about you– how was your first show back?
Aaron: Honestly, it felt like there wasn't any time passing at all! Once it was happening, it was like, "Oh yeah, we're back." [chuckles].
We could have played our last show yesterday instead of two years ago, y'know?
And we connect with Stephan so much–
He has been in the band for two years now, even though we've never played a show together.
The connection is just so potent.
It's crazy– when I turn around, and I'm just, like, shredding. And he's just going nuts on the drums, and he's smiling, and I'm smiling, and we're laughing– and it's like we've been playing together for like ten years or something like that.
It's weird how when you're in the moment like that, it kind of distorts reality– like what time really feels like.
To answer your question– it was incredible.
AM: The synergy you guys have up there is incredible—I never would've known it was Steph's first show if you guys hadn't told me.
---
At this point in the interview, the noise in the bar once again reached a peak–and I honestly didn't quite catch the following exchange as it happened.
But, my trusty pixel has a clear enough recording to give us the gist:
The band chimes in with various, overlapping agreements about synergy–energy–connection–
A toast to Fate.
---
AM to Aaron: Do you have a goal for the next show?
Aaron: I mean, basically do what we just did… [laughs].
But do it again, right? We're not adding anything, right?.
Josh, interjecting: Yeah.
New music for the next show. Yeah.
Aaron: Wait, we're playing HALLELUJAH at the next show?
Josh: Mhmm!
One more song, baby– One more song.
(Spoiler: they did not, in fact, play it at the Brooklyn show–but perhaps, if you're lucky, it will make its way onto the setlist for to their next show, at the end of this month, once again in Philly.)
AM: any final comments, anyone?
Josh: Life is good. And we're never going to take this–you know, playing live music–for granted ever again. You never know what show is going to be your last show, and I think that's what this whole experience has taught us. Instead of trying to always get a bigger show, and thinking, 'Oh, this is just a stepping stone' –
This is it. We're in it. We're very happy to be here, and very happy to be alive.
---
KEEP IN TOUCH:
Get to know Saint Slumber even better: read an interview with Josh!
You can connect with the band on social media and through their Beacons page here.
Find their website here.
---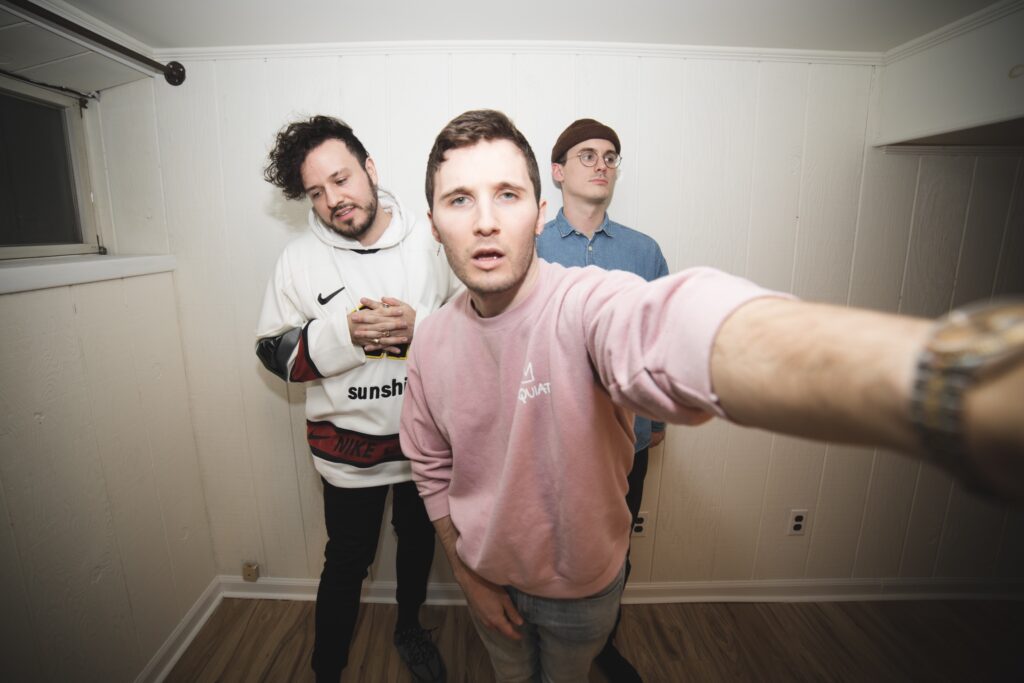 About Author