Multi-talented Coheed and Cambria drummer Josh Eppard has released a series of epic drum playthrough videos. The series features Eppard offering up commentary in regards to his experience recording drum parts for the new Coheed and Cambria album Vaxis – Act II: A Window of the Waking Mind.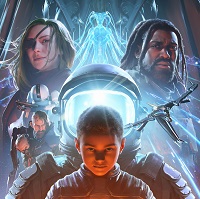 Vaxis II, released in June, features some of Coheed and Cambria's most compelling music to date. They've been a band for nearly two decades and it seems they're starting to get more of the respect they deserve. That's to say, their loyal fanbase has been there the whole time. Increasing crowd sizes leading to sold-out shows across the US only means that the secret is finally out. You can check out their latest single from Vaxis II "A Disappearing Act" here.
The U.S. leg of the A Window of the Waking Mind Tour wraps on August 20th in Oklahoma City when they perform with My Chemical Romance at Paycom Center. From there they'll head to Europe and perform in the UK, Netherlands, Germany, and beyond this fall.
Josh Eppard At Overit Studios
Eppard filmed and recorded the series at Overit Studios in Albany, New York. Recorded and mixed by Dave Parker, Dan Dinsmore served as executive producer and Jordan Forkey directed. Full production credits can be viewed here.
The insightful videos feature a birds' eye view of the performance intertwined with a unique perspective from Eppard. He had this to say about the "Rise, Naianasha" performance.
Claudio deserves a lot of credit as a leader and as the songwriter in this band for letting me really speak…he really let me go off and the end result is something really unique and something undeniably Coheed.

-Josh Eppard
Eppard is most at home with Coheed and Cambria but has spent time with his hip hop project Weerd Science and was the drummer with the supergroup Terrible things. Notably, he founded the prog rock band 3 with brother Joey and bassist/studio engineer Chris Bittner.
Subscribe to Eppard's YouTube channel here or link up with the official Coheed and Cambria website for tour information.
Enjoying MendoWerks Magazine? Receive updates each week directly in your inbox. Sign up for the newsletter here.
About Author