Music from Vance Joy and summertime go hand in hand. His new album In Our Own Sweet Time is available now. To coincide with the release, he's dropped the infectious new song "Catalonia".
Joy recently returned to the stage with a series of much-talked-about performances. He'll be following up shows at the Beach Life & Bottle Rock music festivals, with a full tour in early 2023. The headlining jaunt will kick off February 7th at The Met in Philadelphia before crisscrossing the US and parts of Canada. He'll wrap things up on February 25th at The Anthem in Washington, D.C.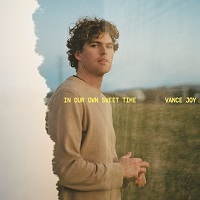 Third Studio Album
In Our Own Sweet Time is the third full-length studio effort from Vance Joy. He broke out in 2014 with Dream Your Life Away on the success of singles like "Riptide" and "Mess Is Mine". Nation of Two followed in 2018 and featured the standout "Lay It On Me". When asked about his approach on the new album, Joy had this to say.
I'm always drawn to the idea of timelessness or that shared moment that takes you out of the chaos outside. If the world is crazy, you can retreat somewhere. It's always hard to think of the right title but I think that sums up the album perfectly.

-Vance Joy
Collaborations on In Our Own Sweet Time
You may have caught Joy on NBC's Today recently performing "Clarity". The song is a collaboration with Grammy Award-winning songwriter Joel Little who's known for his work with Lorde and Taylor Swift.
Take a Day Trip (Miley Cyrus, Lil Nas X) and Dan Wilson (Adele, Leon Bridges) are also on board for parts of the new album. Wilson is also known for his time with 90s alt-rockers and their smash hit "Closing Time".
For tickets and information on Vance Joy's upcoming tour schedule, be sure to visit his website. For additional updates follow along on Instagram and Twitter.
Album Tracklist
Don't Fade
Solid Ground
Missing Piece
Catalonia
Way That I'm Going
Every Side Of You
Clarity
Wavelength
Boardwalk
Looking at Me Like That
This One
Daylight
MendoWerks would love to hear from you! Submit your music now for a review.
About Author