Pixar's 'Lightyear' marks the beloved animation company's first feature film in nearly two years to be released theatrically.
'Soul,' 'Luca,' and 'Turning Red' were all sent straight to Disney+ for streaming during the pandemic. This film, with its connection to an existing film series that is the fourth-highest-grossing animated franchise in history, finds the company back on the big screen where they belong.
And when I say big screen, let me encourage you to see this in IMAX if you can. Many large-format screens are sticking with 'Jurassic World Dominion' this weekend. 'Lightyear' should at least get matinees in most areas. This is the first time that Pixar has ever crafted a film with the full IMAX screen in mind. The full IMAX aspect ratio is used in multiple sequences. Those sequences are genuinely stunning.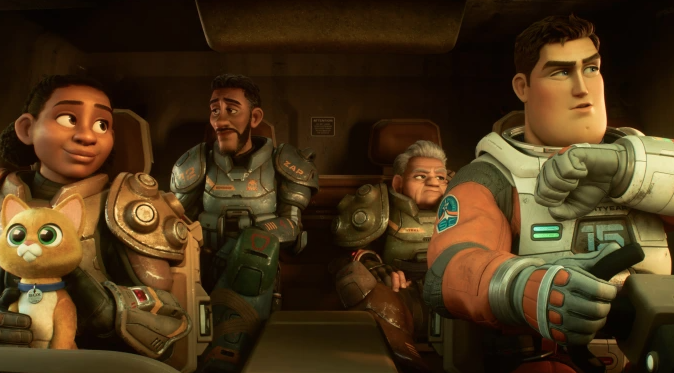 Angus MacLane ('Finding Dory') directs what is being called "the definitive origin story" of the Buzz Lightyear character from 'Toy Story.' This film is supposed to be what young Andy watched that made him want to have a Buzz toy in the first place.
The Story of Space Ranger
A loving tribute to sci-fi epics, 'Lightyear' tells the story of the legendary Space Ranger (voiced by Chris Evans) as he tries to save his team after crash landing on a hostile planet.
Working with his commander officer and best friend Alisha (Uzo Aduba), Buzz comes up with a plan to get everybody home but it causes a rift in the time-space continuum.
Buzz must work together with a ragtag group of rookies led by Alisha's granddaughter Izzy (Keke Palmer), Mo (Taika Waititi), and Darby (Dale Soules). Can they save Buzz's co-workers and return to Earth?
With the help of a robot cat named Sox (Peter Sohn) who will undoubtedly become a merchandising cash cow, they all learn about the power of teamwork. Younger kids may not follow all the details of the time travel plot, but they will connect with Sox. At the press screening I attended, there were kids giggling and shouting anytime he appeared on screen. The biggest puzzle of all is why after watching this movie that Andy didn't buy a Sox toy instead.
While Sox should keep the kids entertained, I occasionally found my adult self forgetting that I was watching animation. The story arc is going to go over the heads of many younger viewers, but I think it more than succeeds for sci-fi loving adults.
Award-winning composer Michael Giacchino returns with a rousing string-heavy score that perfectly captures all the action. It's bombastic when it needs to be but also conveys restraint. No surprise here, it's a top-notch effort.
Conservatives are guaranteed to make a big deal over the fact that Pixar has included a gay character here who (gasp!) kisses her wife in a blink-and-you'll-miss-it moment. Disney has refused to edit out the brief scene which is keeping it from being distributed in several countries. Sorry folks, queer people exist! Even in space.
Going in to 'Lightyear,' I was skeptical in every way. It turned out to be a lot of fun, especially on a big IMAX screen.
'Lightyear' opens in theaters nationwide on Friday, June 17.
About Author