Rockers Nothing More has announced the pre-order for their new album. The highly anticipated "Spirits" is set for release on October 14th. Accompanying the announcement is the release of the lyric video for the hard-rocking title track.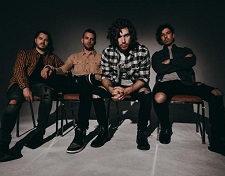 'The new single follows the successful "Turn It Up Lie (Stand In The Fire)" and "Tired of Winning". "Spirits" has everything to do with alcohol according to frontman Jonny Hawkins.
When you drink liquor, it has been said that you are welcoming that pneuma (spirit) into your body. Most of us have seen and experienced how alcohol (or rather 'al-ghawl,' which means demon/spirit) can make us feel. It's almost as if we turn into someone else when too much of the spirit has been consumed. Sometimes it's eye opening and can lead to wondrous life-changing conversations or bonds that would never normally happen…and sometimes it can lead to the exact opposite. It may turn us into Dr. Hyde's Jekyll and cause us to do or say horrific things we would never normally do sober. Spirits are both a little bit heavenly and a little bit sick.

-Hawkins
Nothing More On Tour
Nothing More will hit the road with In This Moment starting August 26th. Tickets for the tour are on sale now and the tour will run through October 22nd. The band is also set to appear at some of America's biggest music festivals. Don't miss their sets at Blue Ridge Rock Festival, Louder Than Life, Rocklahoma, and Aftershock.
The band just wrapped a much-talked-about tour with Asking Alexandria who had to leave midway through the run due to health issues. For those who are new to Nothing More they've brought back the "Scorpion Tail". It's a 400-pound, 14-foot tall MIDI controller constructed of metal scraps built by bassist Daniel Oliver. The device allows Hawkins to tweak the bands' sound using a digital interface and is a sight to behold.
To pre-order the album stop by Nothing More's website. Follow along on Instagram and Twitter for additional updates.
Tracklist: Spirits
Turn It Up Like (Stand In The Fire)
Tired of Winning
Ships In The Night
You Don't Know What Love Means
Don't Look Back
The Other F Word
Face It
Best Times
Deja Vu
Dream With Me
Neverland
Valhalla (Too Young To See)
Spirits
Enjoying MendoWerks Magazine? Receive updates each week directly in your inbox. Sign up for the newsletter here.
About Author