Jane N' The Jungle has come out swinging with the release of their new single "Dirty Dog". The uptempo rock track carries a strong message that shouldn't be ignored.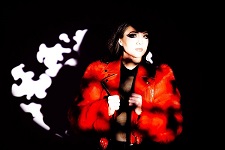 Front woman Jordan White confronts the issue of her own sexual assault in the lyric content of the song. She penned the lyrics at a local watering hole while trading stories with the talented Ayron Jones. Lyrics like "felt so gross and so small, like a Dirty Dog" carry a heavy weight. But these types of heavy topics shouldn't be ignored. In fact, I can't think of a better place to express them than an aggressive rock song like this.
Jane N' The Jungle is fresh off the release of their Ocean Creatures EP. They jumped right back in the studio so that the talented White along with Brian Dellis on guitar and "Big B" on bass could bring the song to life. They spent time with producer/engineer Chuck Alkazian (Pop Evil, Soundgarden) at Pearl Sound Studios in Detroit crafting the track.
Viper Room Performance
The dynamic group will perform at the Viper Room in Los Angeles this Friday night June 24th to mark the release. Regrettably, this performance is among the last at the legendary club. Plans are in place to demolish the venue and it's set to be replaced by a 12-story mixed-use development according to Fox LA.
While the project calls for a new Viper Room to be built on the property, critics claim it won't be the same. Located on Sunset Strip, the club was established in 1993 and infamously was the scene of the passing of River Phoenix that same year.
For more information or to sign up for the Jane N' The Jungle mailing list stop by their website. Or you can follow along on Instagram and Twitter for additional updates.
Enjoying MendoWerks Magazine? Receive updates each week directly in your inbox. Sign up for the newsletter here.
About Author