New Zealand-based alt-rock trio Capital Theatre has released its debut album. Their captivating new music video accompanies the buzzworthy single "Fait Accompli". This edgy yet melodic band is one to keep an eye on, we're expecting big things to come.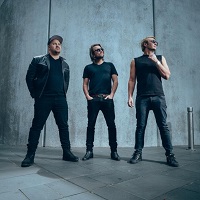 Capital Theatre was formed in 2019 by longtime friends Adam Stevenson (vocals, guitar, piano), Paul Reid (drums, vocals), and Roy Oliver (guitar, vocals). They've got some heavy hitters in their corner. The new album A Hero's Journey was produced by Grammy Award-winning producer Mike Clink. He's known for his work with bands like Guns N' Roses, Megadeth and Steve Vai.
The album's lyrical content is based on the mythological book The Hero with a Thousand Faces by Joseph Campbell. The 10-song collection follows the archetypal hero's journey through life. Capital Theatre's guitar and keyboard-driven sound packs a punch. String arrangements were included by composer David Campbell (Rolling Stones, Beck). Ultimately helping to serve up introspective moments that take the listener on quite a journey.
Behind The Music Video
The band was recently in Los Angeles working on new material. Reuniting with Clink, it's expected the new songs will appear on their next album. During their visit stateside they teamed up with director Brian Cox (The Used, Bring Me The Horizon) to film the music video for "Fait Accompli".
Previous music videos have seen the band being very hands-on with the production. With the new video, they decided to take a step back and let Cox take the wheel. The result is a visually stunning piece that tells a deep story.
Stevenson's daughter was born six and a half weeks early. The situation served as the inspiration behind the song and video. The song itself represents the idea of the hero's entrance into their own journey without any choice but to advance and move forward. Fait accompli is defined by Oxford Dictionary as something that has happened and cannot be changed.
While there are currently no concert dates scheduled in the US, you can find more information on their website. Follow along on Facebook and Instagram for more updates.
Enjoying MendoWerks Magazine? Receive updates each week directly in your inbox. Sign up for the newsletter here.
About Author