Alt-pop artist Mothica's highly anticipated sophomore album is set for release. Nocturnal will be available worldwide on July 1st. Along with the announcement she's dropped two new singles simultaneously. She'll be heading out on tour with Coheed & Cambria this summer but more on that in a moment.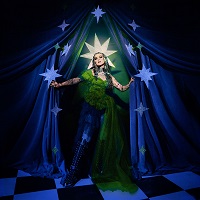 Mothica released her debut album Blue Hour in 2020. The project was inspired by the sky's final moments before darkness. She followed that up with an EP in 2021 called forever fifteen. According to a recent press release, on Nocturnal she focuses on nighttime and her strange relationship with sleep.
A lot of the songs touch on darkness and being self-destructive. "Blue Hour' was a transitional moment where I got sober. I was more of an emotional wreck, trying to figure out my life. This is me fully planted, making a very visual album that has a complete concept behind it. With this album, I wanted to feel more empowered.

-Mothica
On Tour with Coheed & Cambria
A busy summer is ahead for Mothica. She'll be opening for Coheed & Cambria and Alkaline Trio on the Window of the Waking Mind Tour. That'll kick off July 12th in Miami and run through August 17th in Oregon. An appearance at Aftershock Festival is on the agenda for fall as well.
Alkaline Trio replaced original openers Dance Gavin Dance. Sexual misconduct allegations surfaced against vocalist Tillian Pearson. He has since stepped away from the band. It was announced in April that longtime bassist Tim Feerick had passed away. Despite recent challenges, they plan to move ahead with the release of their new album. Jackpot Juicer, their 10th, will be released on July 29th.
Mothica: New Music
New singles "Bedtime Stories" and "Blood" are available now. We've also heard standout tracks "Last Cigarette" and "Casualty" off Nocturnal. Mothica has co-directed each of the music videos released to date. She is the creative force behind all the visual elements associated with the album.
You can visit Mothica's website here for more information. For additional updates follow along on Instagram and Twitter.
Tracklist: Nocturnal
Sleepwalk
Nocturnal
Sensitive
Highlights
I
Casualty
Last Cigarette (ft. Au/Ra)
Back of My Mind
II
R.E.M.
Bedtime Stories
Lullaby
III
Absinthe
The Reckoning (ft. Polyphia)
Blood
Tears
MendoWerks would love to hear from you! Submit your music now for a review.
About Author