The immensely talented alt-pop artist Sub Urban's new video has got a lot of people freaked out. If horror movies aren't your thing, you might want to skip this one. But he's continuing to break new ground as an artist ahead of the release of his debut album so, you may want to check this one out.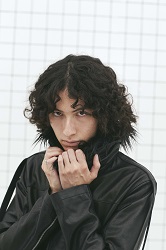 Hive will be released June 3rd via Warner Records. Sub Urban has more than 1.5 billion streams and a billion YouTube views under his belt already. It's clear he's making connections with fans across the globe. "Uh Oh" is a collaboration with multi-platinum New Zealand-based artist Benee. Sub Urban had this to say about joining forces.
'Benee's presence in UH OH! gives the song a much needed level of enchantment. Though it's a shame we never met in person, she nailed her parts in this project, both vocally and in the video.'

-Sub Urban
Now, let's talk about the video. Sub Urban incorporates elements seen in a number of classic 90s videos. You've got the classic 1950s family. There's the bright color palette. Then there's the grin stretched across Sub Urban's face. He approaches a seemingly non-descript home and proceeds to haunt the family residing inside.
When the family calls the police for assistance, Benee is on the other end of the line. Needless to say, she isn't much help and the family flees the home at that point. She adds a captivating element to the song and solidifies its status as an alt-rock anthem.
Sub Urban Tour Dates With Aurora
Next, Sub Urban will tour with Aurora whom he collaborated with on a previous single, "Paramour". You can link up with more information on concert tickets here. Or follow along on Tik Tok and Instagram if you're up for it.
5/15: Seattle, WA (Showbox Sodo)
5/17: Francisco, CA (The Warfield)
5/19: Los Angeles, CA (The Greek Theatre)
5/20: San Diego, CA (The Observatory North Park)
5/21: Las Vegas, NV (Brooklyn Bowl at Linq Promenade)
5/23: Englewood, CO (Gothic Theatre)
5/27: Chicago, IL (The Vic Theatre)
5/28:Detroit, MI (Majestic Theatre)
5/29: Toronto, ON (History)
5/31: Montreal, QC (MTELUS)
6/1: Boston, MA (Roadrunner)
6/2: Philadelphia, PA (Union Transfer)
6/4: New York, NY (Capital One City Parks Foundation)
6/5: Washington, DC (Lincoln Theatre)
MendoWerks would love to hear from you! Submit your music now for a review.
About Author