James and the Cold Gun are everything that's great about rock and roll. Soaring choruses meet edgy riffs and a little unpredictability on their debut EP False Start. It's been released on Venn Records in the UK and Loosegroove Records out of Seattle in the US. Loosegroove is owned by Stone Gossard (Pearl Jam, Temple of the Dog) and Regan Hagar (Malfunkshun, Brad).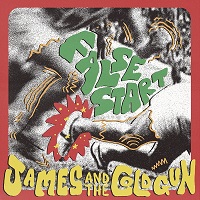 The band caught the Pearl Jam guitarists' attention after he heard "Long Way Home" getting airplay on KEXP last year. The False Start EP is just the beginning of this new partnership between the iconic indie label and James and the Cold Gun with Gossard stating, 'This new track, "It's Mutual" takes it to another level. Totally unhinged and letting it all hang out. Loosegroove Records is thrilled to be working with James and the Cold Gun on this new EP with a future full-length coming soon.'
Loosegroove Records was founded in 1994 and has released albums from Critters Buggin, Malfunkshun, and Weapon of Choice. It's also known as the launching point for Queens of the Stone Age's debut album in 1998.
James and the Cold Gun: Making a Name For Themselves
Considering they've only been a band for two years, they're off to one hell of a start. Hailing in Cardiff, Wales, James Joseph (guitar/vocals) and James Biss (guitar/vocals) started the project in 2020. They hadn't been able to play out until semi-recently and have made their mark on the British music scene. Rounding out the band you have Al Jones (bass) and Jack Wrench (drums)
According to Biss, the songs for False Start were all written in 2020. They were isolated in their flat during the pandemic and got creative. He goes on to state that the first time they were played live was during the recording sessions. They worked with Grammy-winning producer Adrian Bushby (Foo Fighters, Muse) who encouraged them to play loud and hard. The result is a barnburner of an EP with a strong lead into their eventual debut full-length album.
Visit the James And The Cold Gun website for details or stay in touch via Instagram and Twitter. While no US dates have been announced, let's keep our fingers crossed they make their way across the pond sometime soon.
Tracklist – False Start EP
Around The Bend
Plug Me In
MendoWerks would love to hear from you! Submit your music now for a review.
About Author