International indie-folk artist Graeme James has released a visually stunning music video to accompany his new single "All the Lives We Ever Lived". On his new album, the accomplished singer/songwriter takes listeners on a journey through the cycles of life. Seasons is available now everywhere you listen to music.
Comprised of 12 new songs, Seasons is a concept album that starts with a spring theme and cycles through to winter. Not only did he produce the album, but he also played a majority of the instruments. While inviting friends to perform piano, horn, percussion, and some vocals, James took care of the rest himself.
He got his start training as a classical violinist as a child. A series of injuries forced him to make other plans. James would earn a reputation as a talented street busker in his native New Zealand. The multi-instrumentalist is known for being a one-man-band when playing in a live setting. He utilizes a loop pedal to create the sound of a full orchestra.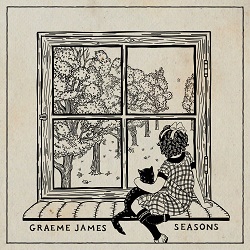 Do it yourself and think big
Following two core philosophies, do it yourself and think big, that's exactly what he's done on Seasons. The go big angle applies to his approach to subject matter exploring the nature of time and space. A move to the Netherlands had its effect as well. The result was a deep reflection on changes in nature and relationships.
In New Zealand, most of the trees are evergreen. You don't get as much seasonal distinction as you do in Europe or North America. The Netherlands is northern Europe, so you're getting a lot of range. The weather here really caused me to appreciate seasonality, and come to appreciate all of the seasons for the richness they bring to life.

-Graeme James
A Rolling Stone feature compared James to performers like Nathaniel Rateliff (during his unplugged moments) and Phoebe Bridgers. Certainly, good company to be in. We'll take it a step further and mention we heard hints of Lord Huron and Iron & Wine in his music.
While current shows are limited to the Netherlands, let's home James books some shows in the US down the road. Stay connected by visiting his website or by following him on Facebook and Instagram.
MendoWerks would love to hear from you! Submit your music now for a review.
About Author