In early 2020, actor and writer Jessica Pinfield was able to bring her first screenplay to life when cameras rolled on a short film called 'Red Giant.'
Her co-star in the film, Leven Rambin, was also the director and the two women had a very successful run on the festival circuit last year picking up accolades at the Indie Short Fest, IndieXFest, and the Phoenix Film Festival among many others.
The apocalyptic drama was recently posted online (watch 'Red Giant' on Vimeo) and I had a chance to catch up with Jessica to talk about the film and find out what she's working on next.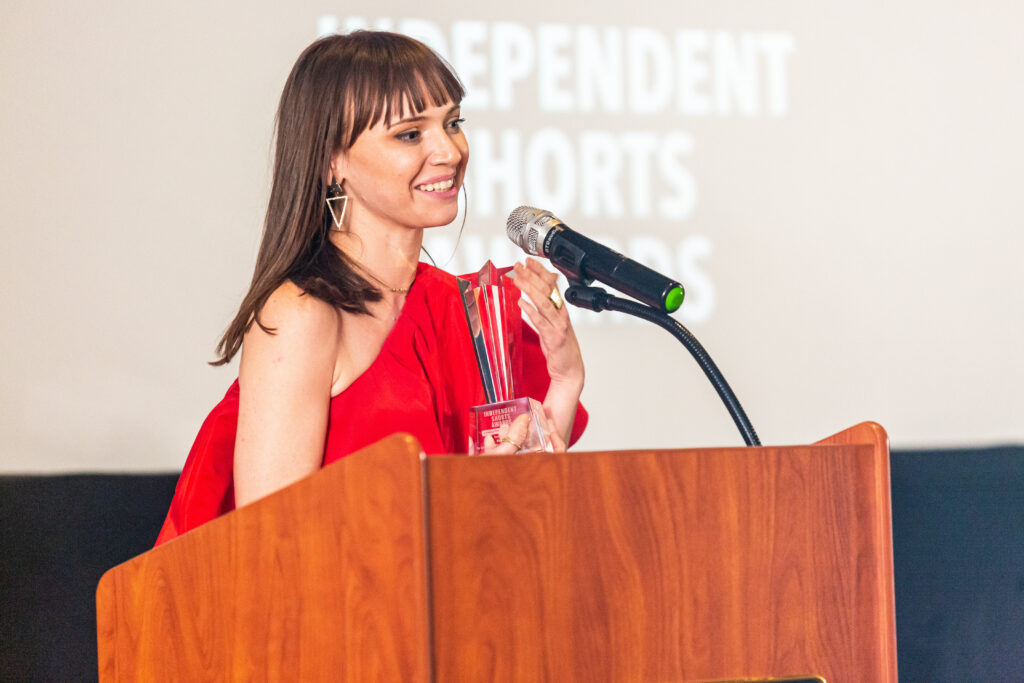 Can you tell me a little bit about the inspiration behind 'Red Giant' and what the process was like going from an idea you had to written screenplay?
I was thinking a lot about relationships and the end of the world theme was always appealing to me so I combined those two things. Then I thought what if this is about something else entirely.

I'm always curious about the creative timeline – after you had your story, how long did it take to make? How did you put together your crew?
It took a couple of years. I had the idea and was offered funding and a crew that eventually fell through. I did not think I could produce my own film so I was crushed but that's exactly what I ended up doing and it was exactly the way it was meant to be. I had acted in other indie films and shorts and I met enough crew to ask for help. I brought on two producers that also had some great contacts and when I talked to Leven about directing everything started moving forward quickly.

The world of short films seems extra competitive these days. They can be an incredible calling card, but you have to get it seen first. How was the process of applying for festivals? Once unleashed to the public, were you surprised by the response?
Shorts are insanely competitive. The major festivals will get close to 10k submissions and choose 50 which is mind blowing. I was a bit delusional when I started applying because I thought we would get into Sundance and all the majors. I was very quickly humbled and realized I needed to cast a wider net. We were lucky to have a sales agent helping reach out to festival programmers and get great feedback but ultimately a few of my dream festivals didn't pan out. When I went a little smaller, the film began receiving awards and I really was able to feel seen as a filmmaker.
It's so nice to finally have the film out there on Vimeo and to hear what people think. The feedback has been nothing but positive and I'm just so grateful for everyone involved.

I know that you already have another short that you've written and star in that is on the way called 'Live Forever.' What can you tell us about that?
Yes! We just finished post-production. 'Live Forever' is a reference to the Oasis song. I don't want to give too much away but it stars me and this incredible young actress Elle Van Dorpe. Tyler Posey, who I had recently met, read the script and had nothing but the nicest things to say and I asked if he wanted to direct it and he said yes. He was the perfect director for this. Tyler's been acting since he was a little kid so he knew exactly how to connect with the young girl and her performance is amazing.

Lastly, what were some of your favorite films of 2021 and what performances, if any, inspired you that you saw over the last year?
I loved the film 'Nine Days.' That is probably my favorite film from last year. It's a breathtaking film about life and death starring Winston Duke and Zazie Beetz. TV has been so ridiculously good lately. I'm currently binging 'Inventing Anna' which stars one of my favorite actors Julia Garner. Her work in 'Ozark' as well is on another level. She is someone I really admire!
Jessica is not (yet) on Twitter, but if you want to see what she does next, you can follow her on Instagram.
About Author