Danish drama 'Flee' is one of the most unique nominees at this year's Academy Awards.
It earned a nomination for Best International Feature Film, but also made history for its inclusion in the categories for Best Animated Feature and Best Documentary Feature.
The film, which world premiered at Sundance last year, introduces us to a man in Denmark who finally breaks his silence on being a child refugee.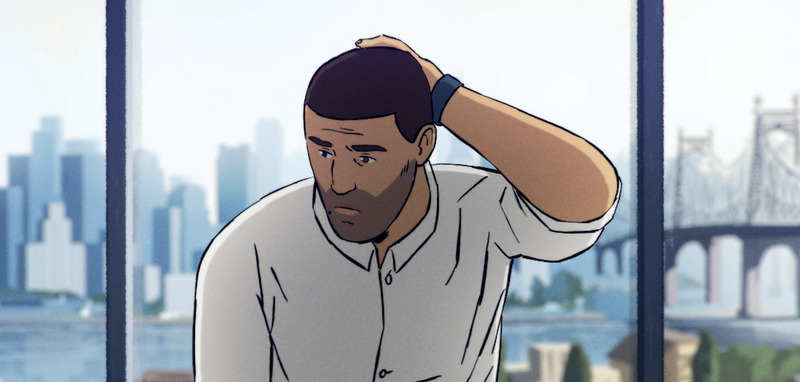 Director Jonas Poher Rasmussen tells the intensely personal story of one his best friends from high school. We're introduced to him as Amin Nawabi, but that's a pseudonym. Combined with the animation, it allows Amin to tell his story, but remain protected.
Born in Kabul, Amin's family was torn apart after their father was arrested and the country was torn apart by war. In order to survive, he was separated from his family and sent on a dangerous journey to find a better life.
What happened to Amin along the way is often heartbreaking and unbelievable, but he does eventually make it from Afghanistan to Denmark, starting life over as a young boy in a genuinely foreign territory.
Rasmussen comes from a background in radio, so it is not surprising that he was able to take these intimate interviews and bring them to life with such creative animation. It's a process that allows for visual inventiveness and clever methods to communicate the memories of a child.
Now, a grown man on the verge of marrying his husband, Amin tells his story in a meaningful and confessional way. These are memories that shaped the person he is today even though he has suppressed them for so long.
'Flee' is powerfully cathartic. This is just one of many unique refugee stories, but hopefully it will make a lasting impact long after the awards and accolades have faded.
'Flee' is in the running for three Academy Awards on Sunday, March 27. It is streaming now on Hulu in its original subtitled version and also an English dubbed version.
About Author