Polyvinyl Record Co. and Laura Jane Grace have joined forces to announce the upcoming release of Hole In My Head. The release marks the Emmy-nominated artist's first album since 2021's At War With The Silverfish. Recorded at Native Sound in St. Louis, MO, with David Beeman and mixed by Matt Allison, the album features warm '50s rock-influenced guitar riffs, introspective lyrics, and reflections on a punk life well-lived.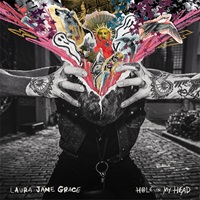 Laura Jane Grace's commanding vocals take center stage, accompanied primarily by her performances on guitar and drums. Drive-By Truckers bassist Matt Patton contributes to over half the album, enriching the sound with a full-band experience.
New Music
Already having revealed the acclaimed fan favorite "Dysphoria Hoodie," Grace has introduced the title track, "Hole In My Head," via music video directed by actor and photographer Gilbert Trejo. This fuzzed-out power-pop ripper delivers a liberating musical experience, offering an escape from the monotony of daily life.
In addition to the album release, Laura Jane Grace has announced a series of performances for 2023 and 2024. She's set to headline shows in the Midwest at the end of December and early 2024. Additional U.S. tour dates for March have been announced, featuring support from Thelma & The Sleaze and Dikembe. Grace will also make her debut in Greece with performances in Athens and Thessaloniki in January.
Iconic Vocalist
Known as one of Billboard Magazine's "50 Greatest Rock Lead Singers Of All Time," Laura Jane Grace has been a musical force since the late '90s. Hole In My Head continues her legacy of addressing political commentary, environmentalism, and self-exploration. With influences spanning from scrappy acoustic anthems to nostalgic surf-punk, the album captures the nuances of humanity in a strangely optimistic manner.
The album's varied influences and journalistic recollections of experiences make it a standout addition to Laura Jane Grace's impressive discography. Hole In My Head is set to be a welcome embrace of life, marking just the beginning of a new chapter in Laura Jane Grace's raucous journey.
Album Tracklist:
Hole In My Head
I'm Not A Cop
Dysphoria Hoodie
Birds Talk Too
Punk Rock In Basements
Cuffing Season
Tacos and Toast
Mercenary
Keeping Your Wheels Straight
Hard Feelings
Give Up The Ghost
Connect with Laura Jane Grace:
Website | Patreon | Bandcamp | Instagram
Are you enjoying MendoWerks Magazine? Receive updates each week directly in your inbox. Sign up for the newsletter here.
About Author