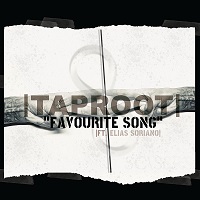 Michigan-based hard rock veterans Taproot have unveiled their latest single. "Favourite Song" marks the first official release from their upcoming album SC\SSRS. The highly anticipated new album is set to hit shelves on September 29th.
"Favourite Song" features a guest appearance by Nonpoint's Elias Soriano. The hard-hitting yet melodic track and accompanying lyric video are available now everywhere you listen to music. Produced by guitarist/vocalist Stephen Richards at The Loft in Saline, MI, and mixed by Matt LaPlant (Nonpoint and Skindred), this album, entirely written and recorded by Richards, marks the band's first studio effort since 2012's The Episodes (Victory).
In addition to their upcoming album, Taproot recently dropped Best of Besides. The 17-track compilation features remastered demos and rarities, mastered by Richard Easterling (known for Tantric and Zen From Mars).
Taproot On The Road
After a series of sold-out album release shows, Taproot will be taking their "Album Release Tour" through the end of the year. Announced shows are listed below and feature special guests like September Mourning, Eva Under Fire, Smile Empty Soul, Dead By Wednesday, I Set My Friends on Fire, and Heartsick on select dates.
Notably, the upcoming shows will welcome the return of original drummer Jarrod Montague, who rejoined the band earlier this year.
9/29 – Machine Shop | Flint, MI – SOLD OUT w/ Heartsick | Lift the Medium
9/30 – Machine Shop | Flint, MI – SOLD OUT w/ Eva Under Fire | See This Through | Never the Crash
10/1 – Machine Shop | Flint, MI – SOLD OUT with Eva Under Fire | Heartsick
10/6 – Route 20 | Racine, WI – w/ Smile Empty Soul, Heartsick, Finding Ghosts
10/7 – The Forge | Joliet, IL- w/ Smile Empty Soul, Heartsick
10/13 – EPIC Event Center | Green Bay, WI- w/ September Mourning, Heartsick
10/14 – Blue Note | Harrison, OH- w/ September Mourning, Lift the Medium, Xero Hour
10/20 – KING of CLUBS | Columbus, OH-w/ September Mourning, XFACTOR1 | Artifax
10/21 – Winchester Music Tavern | Lakewood, OH- w/ September Mourning, Brothers At Arms
11/2 – The Vault | New Bedford, MA w/ Dead By Wednesday
11/3 – Wally's | Hampton Beach, NH w/ Eva Under Fire, Dead by Wednesday
11/4 – Gramercy Theatre | NYC, NY- w/ Eva Under Fire, Dead by Wednesday
11/17 – Elevation | Grand Rapids, MI
11/18 – Eclectic Room | Angola, IN
12/8 – Masonic Theatre – Steubenville, OH w/Theriaca
12/9 – District 142 – Wyandotte, MI w/I Set My Friends On Fire
Getting To Know Taproot
Founded in 1997 in Ann Arbor, Michigan, Taproot gained recognition after signing with Atlantic Records and releasing their debut album, GIFT, in 2000. The extensive touring and appearances at Ozzfest 2000 and 2001 took them to new heights. Their sophomore album Welcome was produced by Toby Wright and achieved a great deal of success. The album sold over 500,000 copies and spawned hit singles like "Poem" and "Mine."
Before their hiatus, Taproot maintained a consistent presence with several full-length studio albums, including Our Long Road Home and Plead The Fifth. Their break began in 2013 and the band officially regrouped this year. They're set to make a triumphant return to the stage and the music scene. SC\SSRS is currently available for pre-order on taprootmerch.com.
Connect with Taproot:
Website | Facebook | Instagram | Twitter
Are you enjoying MendoWerks Magazine? Receive updates each week directly in your inbox. Sign up for the newsletter here.
About Author