'Love at First Sight' is an adaptation of a hit YA novel that finds the fickle finger of fate pointing directly at two strangers who meet at the airport.
Narrated by Jameela Jamil ('The Good Place'), the film is charmingly slight, but fun to watch. The original novel is called 'The Statistical Probability of Love at First Sight,' which is such a better title and, yet, you probably would be less likely to pick that off the Netflix menu.
Haley Lu Richardson ('The White Lotus,' 'Columbus') is Hadley, who is on her way to England for the second marriage of her father (Rob Delaney). It's a special event that she has very mixed feelings about. She's still smarting from her parents divorce and not particularly excited to cross the pond to watch her dad get married to a woman she has never met.
A lack of enthusiasm exacerbated by the fact that Hadley shows up to the airport and misses her flight. This scenario does lead her to meet Oliver (Ben Hardy), a handsome Brit who offers her his phone charger to help her dying cell phone get a quick boost.
As luck would have it, a fortunate turn of events results in Hadley and Oliver sitting next to each other for an international flight from New York to London and the sparks fly.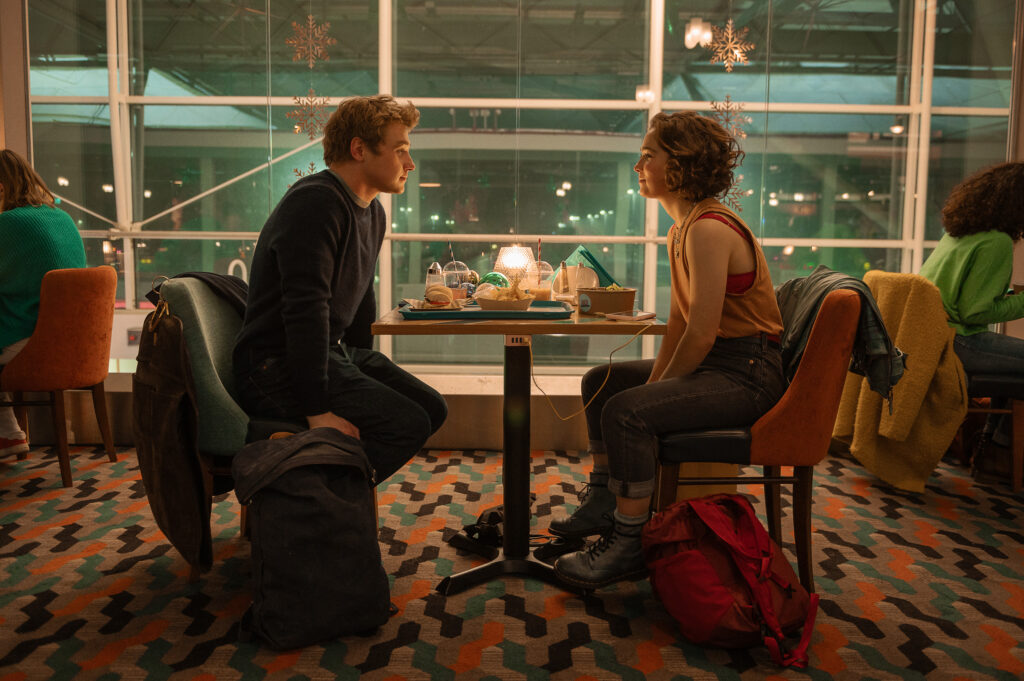 The Verdict
Let's get one thing clear – 'Love at First Sight' is no 'Before Sunrise.' It's sappy, absurd, and more than a little corny. At the same time, it has a pair of irresistibly charming leads who you instinctively want to root for even when you're shouting, "REAAAAAAAAAAAAAAALY?!?" at the screen and rolling your eyes at the unlikely events that follow.
You see, Oliver is studying statistics at Yale and he loves to spout numbers in conversation. We learn, for instance, that his average phone battery is 94%. Hadley's peaks at 21% and that plays into many of the twists and turns of our budding romance.
After getting off the plane, Hadley becomes stuck in customs and her phone dies. Oliver had typed his number in to her phone before parting ways only to find it becoming lost forever. They become two strangers in a big city yet again, with only minimal clues as to how to find each other again.
The purpose of a film like this is not to stay grounded in reality – it's to let your heart soar with the possibilities of what if. There is a fair amount of suspension of disbelief that you'll have to commit to in order to enjoy 'Love at First Sight.' If you're able to just go with it, I'd argue that Richardson's performance alone makes it an enjoyable experience.
With more than a tip of the hat to Shakespeare's 'A Midsummer Night's Dream,' this is a modern tale of having to find and lose a new love a few times before a chance of making it stick.
Grade: B-
How to Watch 'Love at First Sight'
'Love at First Sight' is streaming now globally on Netflix.
Looking for more viewing recommendations? Check out our September 2023 streaming preview!
About Author