Get ready to rock into fall with an electrifying tour from Earshot. The band just announced their upcoming road trip, and it's going to be an epic ride. Joining them on tour are special guests Thousand Years Wide and MCHNZ, making it a memorable experience for rock enthusiasts.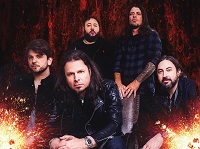 The tour kicks off on September 29th in San Diego, CA at Brick by Brick and concludes on October 22nd in Mechanicsburg, PA at Lovedrafts. So, mark your calendars and grab your tickets and VIP upgrades now.
Earshot recently unveiled their latest single "UNRAVELING." The track is already making waves and is available for streaming and download on various platforms. You can check it out for yourself down below.
Getting To Know Earshot
With their signature driving hard rock beats and captivating harmonies, the band has been winning hearts since its early days. Their debut album LETTING GO was a massive success after signing with Warner Bros. Records in 2002. Their hit single "Get Away" reached #4 on the U.S. Active Rock Radio Charts. "Headstrong" was featured on The Queen of The Damned soundtrack alongside heavyweights like Disturbed and Marilyn Manson.
But it was their sophomore album TWO that truly propelled them to mainstream fame, with the single "Wait" reaching #9 on U.S. Active Rock Radio and even gracing several video game soundtracks.
After a well-deserved hiatus, Earshot made a triumphant return with their fourth studio recording AFTERMATH, featuring an intimate acoustic performance of "Fall Apart" and the release of the album's first single "Now That It's Over."
Post Hiatus Success
Throughout all its ups and downs in the music industry, Earshot remained true to itself, reactivating in 2019 with new members Aaron Fink, John Novak, and Mike Sylvia.
This band's resilience and passion for music have kept them going strong, and their latest remake of Alanis Morissette's "Uninvited" and 2021's "Been A Long Time" have been gaining major attention, reaching high on the Billboard Mainstream and Active Rock Charts.
So, if you're a fan of hard-hitting rock with a touch of experimentation, Earshot's tour should be right up your alley. With Wil Martin on vocals and guitar, Aaron Fink on guitars, John Novak on bass, and Michael Sylvia on drums, you're in for an unforgettable ride.
Earshot Live
9/29 – SAN DIEGO, CA – BRICK BY BRICK
9/30 – LAS VEGAS, NV – COUNT'S VAMP'D.
10/3 – LUBBOCK, TX – JAKE'S BACKROOM
10/4 – DALLAS, TX – TREES
10/5 – SAN ANTONIO, TX – PAPER TIGER
10/6 – AUSTIN, TX – PARISH
10/7 – HOUSTON, TX – SCOUT BAR
10/10 – MOBILE, AL – ALABAMA MUSIC BOX
10/11 – TALLAHASSEE, FL – LEGACY AT THE RIVERFRONT
10/12 – JACKSONVILLE, FL – JACK RABBITS
10/13 – GREENVILLE, SC – THE RADIO ROOM
10/14 – JACKSONVILLE NC – HOOLIGANS LIVE
10/15 – VIRGINIA BEACH, VA – SCANDALS LIVE
10/18 – NEWARK, DE – HALFTIME SPORTS BAR
10/19 – CLIFTON, NJ – DINGBATZ
10/20 – ALLENTOWN, PA – MAINGATE NIGHTCLUB
10/21 – IRWIN, PA – BRANDY'S ON MAIN
10/22 – MECHANICSBURG, PA – LOVEDRAFTS
Connect with Earshot:
Website | YouTube | Facebook | Twitter | Instagram
Are you enjoying MendoWerks Magazine? Receive updates each week directly in your inbox. Sign up for the newsletter here.
About Author