UK-based band Healthy Junkies have unleashed their latest video "These Boots Are Made for Walking." The band expertly Combines elements of punk rock, grunge, new wave, garage rock, and goth. The result is a distinctive sound that defies categorization.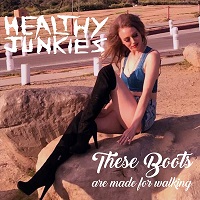 Healthy Junkies is comprised of Nina Courson on vocals, Phil Honey-Jones on guitars and vocals, Dave Whitmore on bass, and Tony Alda on drums. They have a dynamic musical chemistry that is evident in their powerful performances.
How It All Came Together
The genesis of "These Boots Are Made for Walking" traces back to Nina's youth. A chance encounter with Nancy Sinatra's iconic rendition of the song when she was just made an indelible mark on her psyche.
Nina persevered, and the song remained a staple in their shows. Finally, in 2018, Healthy Junkies, alongside Phil on guitars and backing vocals, Dave on bass, and Tony on drums, recorded their version of the track.
The song was recorded and produced by the band themselves along with Brian O'Shaughnessy. He's known for his work with My Bloody Valentine and Primal Scream. The captivating energy of "These Boots Are Made for Walking" was captured at Bark Studios in Walthamstow, London. The production showcases the band's raw talent and their ability to infuse their unique blend of genres with unapologetic authenticity.
New Music Video
To visually complement the song's rebellious spirit, the video was skillfully filmed and edited by Bill Watson. Footage for "These Boots Are Made for Walking" was taken in various locations in Los Angeles, California, and its surroundings. The vibrant visuals perfectly capture the band's dynamic energy and bring their music to life on screen.
With Vicky Hamilton of Dark Spark Records at the helm of their management, Healthy Junkies are poised to make a lasting impact on the music scene. Their fearless fusion of punk, grunge, and gothic influences sets them apart, offering a refreshing and captivating experience for music enthusiasts craving something new.
Don't miss the release of "These Boots Are Made for Walking" and consider embracing the electrifying sounds of this extraordinary band.
Connect with Health Junkies:
Website | YouTube | Facebook | Instagram | Twitter
Are you enjoying MendoWerks Magazine? Receive updates each week directly in your inbox. Sign up for the newsletter here.
About Author