Today, Pennsylvania-based rap metal band, From Ashes To New, released a new concept album: Blackout. Musically, this new album sees the band continuing to refine the hybrid sound that sets them apart, while also building on the concepts found in their 2016 debut, Day One.
If you're someone who is looking for more of the band's expert splicing of hard rock, metal, hip-hop, electronic and alternative music… you definitely need to give Blackout a few spins.
On the other hand, if you're new to the band, but love fresh-sounding music that can't be put into a neat little genre box… you also need to check this album out.
After all, the album already has a Top 10-charting single ("Hate Me Too"), with another ("Nightmare") well on its way.
Find the new album on Spotify, below.
According to band lore, Blackout builds on themes of distress found in a conceptual, pre-apocalyptic Lancaster, PA, that the band built in Day One… while also weaving in threads of angst and unrest felt throughout 2020. This is because From Ashes To New wrote Blackout during the COVID-19 pandemic.
Matt Brandyberry, one of From Ashes to New's co-vocalists, shares, "Day One was a strong representation of the style that made From Ashes To New who we are today, and Blackout is a step above. The world seems to be headed further and further towards chaos and destruction, so it only felt right to create a piece to paint the picture we are all becoming all too familiar with. Expect much more of this from us in the future!"
Co-vocalist Danny Case adds, "'Blackout is the album we've always wanted to make. It's intense, emotional, heavy, and most importantly, it's us. This album truly represents who we are as a band and its massive sound will prove to be our best record yet. We are so incredibly proud of this album, and we are confident it will quickly become our fans' favorite From Ashes To New record ever."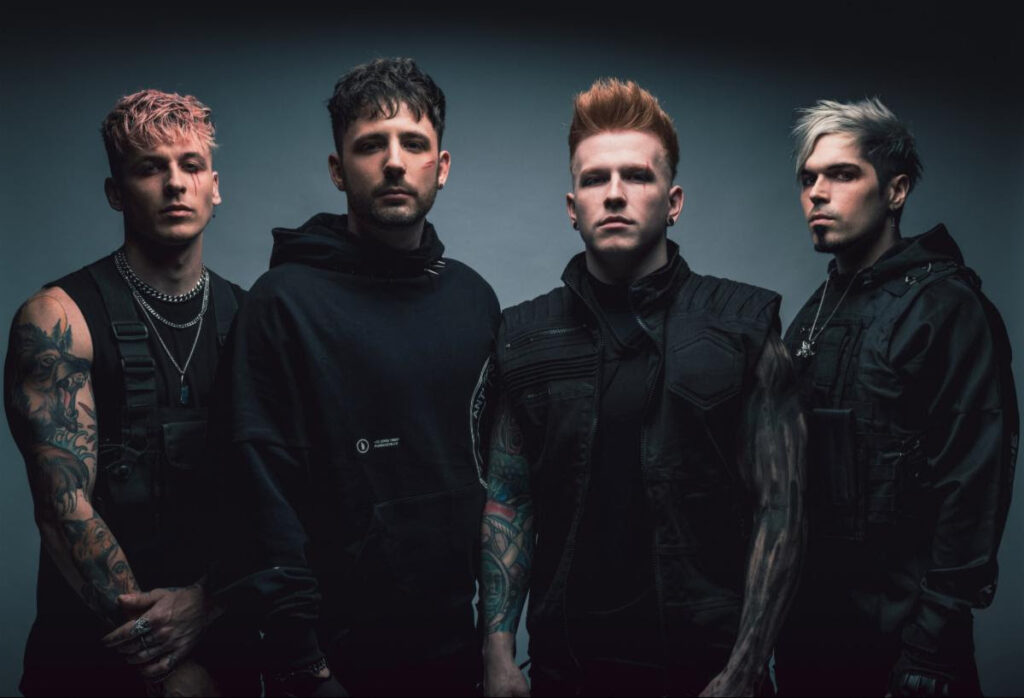 From Ashes To New: On Tour Now!
From Ashes To New are on tour across North America from now until August 19th, with metal mainstays In This Moment and Motionless In White.
Find your local tour date:
29 July – Flagstaff, AZ – Pepsi Amphitheater at Fort Tuthill Park
30 July – Grand Junction, CO – Amphitheater at Las Colonias Park
1 August – Wichita, KS – Hartman Arena
2 August – Oklahoma City, OK – The Criterion
4 August – Council Bluffs, IA – KIWR's Rockfest – Westfair Amphitheater
5 August – Camdenton, MO – Ozarks Amphitheater
6 August – Little Rock, AR – Simmons Bank Arena
8 August – Memphis, TN – The Soundstage at Graceland
9 August – Mobile, AL – Mobile Civic Center Arena
11 August – Huntsville, AL – Propst Arena
12 August – Asheville, NC – Harrah's Cherokee Center
13 August – Corbin, KY – Corbin Arena
15 August – Evansville, IN – Ford Center
16 August – Fort Wayne, IN – Allen County War Memorial Expo Center
18 August – Gilford, NH – Bank of New Hampshire Pavilion
19 August – Albany, NY – MVP Arena
---
Excited about Blackout, but want more From Ashes To New?
Find a brand new lyric video for "Monster In Me" on YouTube, below.
Find FROM ASHES TO NEW online at:
Facebook | Instagram | Twitter | Website | YouTube | TikTok
---
Follow the "FROM ASHES TO NEW: ULTIMATE PLAYLIST" here:
---
Are you enjoying MendoWerks Magazine? Receive updates each week directly in your inbox. Sign up for the newsletter here.
About Author