Prepare to be captivated by the extraordinary talents of acclaimed artist Oliver Tree; he's set to take the industry by storm with his highly anticipated new single, "Bounce." Known for his multi-Platinum hits and mesmerizing performances, Oliver Tree has once again outdone himself with a track that is guaranteed to leave you craving for more.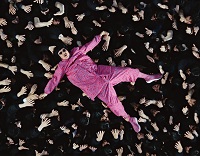 Accompanying the single is an official music video, directed by none other than Oliver Tree himself. He's not only written and produced this captivating anthem, but he also created an unforgettable visual experience that perfectly complements the song's infectious energy.
Oliver Tree New Album
The release of "Bounce" serves as a preview of what's to come from Oliver Tree's highly anticipated third solo album. Alone In A Crowd is scheduled to drop on September 29. This groundbreaking album promises to showcase Oliver's unparalleled creativity. He delves deep into the themes of modern culture, fame, and our obsession with social media. Tree fearlessly explores the highs and lows of the human experience, offering a unique perspective that resonates with fans worldwide.
Oliver Tree's talent has secured him a spot among Spotify's most-listened-to artists. He has a staggering 35 million monthly listeners. His previous album Cowboy Tears Drown the World in a Swimming Pool of Sorrow has been met with critical acclaim, and his latest expanded deluxe edition, featuring hits like "I Hate You" and "Suitcase Full Of Cash," has left fans hungry for more.
The Rise Of Oliver Tree
Oliver Tree's artistic journey has been nothing short of remarkable. From his early career as "Tree" to signing with Atlantic Records in 2017, he has consistently pushed boundaries and redefined the music industry. Tree's dedication and passion for his craft have earned him coveted spots at major festivals like Lollapalooza and Outside Lands, leaving audiences awestruck by his unforgettable performances.
Oliver Tree's meteoric rise to fame shows no signs of slowing down. His ability to connect with audiences on a profound level is a testament to his unique style and unwavering dedication to his art.
To fully immerse yourself in the world of Oliver Tree, make sure to pre-order or save Alone In A Crowd here. Stay tuned for more live dates to be announced soon. Visit his official website for more information.
Connect with Oliver Tree:
Website | YouTube | Facebook | Instagram | Tik Tok | Twitter
Are you enjoying MendoWerks Magazine? Receive updates each week directly in your inbox. Sign up for the newsletter here.
About Author