Royal Blood is set to unleash a new album and embark on a cross-country US tour in support. Brace yourself for the release of their highly anticipated fourth studio album Back To The Water Below on September 8 via Warner Records. This latest offering stands as their most potent and hard-hitting body of work to date, solidifying their status as rock icons.
Royal Blood has given us a preview of the new album with the release of the explosive anthem "Mountains At Midnight." The song captures the essence of the band's signature sound while infusing it with renewed vigor. Mike Kerr, the mastermind behind Royal Blood's unique material creates a wall of sound solely with his bass. Drummer Ben Thatcher's rhythmic prowess taps into a spellbinding groove that is sure to captivate fans new and old. The accompanying lyrics add an ominous ambiance to the song.
Royal Blood On Tour
Prepare to immerse yourself in Royal Blood's live shows. To witness the spectacle firsthand, mark your calendars for the general on-sale date of Friday, June 2, at 10:00 AM local time. Secure your tickets by clicking HERE and become part of the audio and visual experience that is Royal Blood in concert.
The first leg of their North American starts September 16th at the Sea Hear Now Festival in Asbury Park, New Jersey, and wraps October 3rd in New York City. After a run of shows in the UK and Ireland they return on November 9th for a run of shows up and down the west coast.
For a full list of dates click the link below and get psyched for new Royal Blood!
Tracklist: Back To The Water Below
Mountains At Midnight
Shiner In The Dark
Pull Me Through
The Firing Line
Tell Me When It's Too Late
Triggers
How Many More Times
High Waters
There Goes My Cool
Waves
Deluxe Edition 7" single bonus tracks:
Supermodel Avalanches
Everything's Fine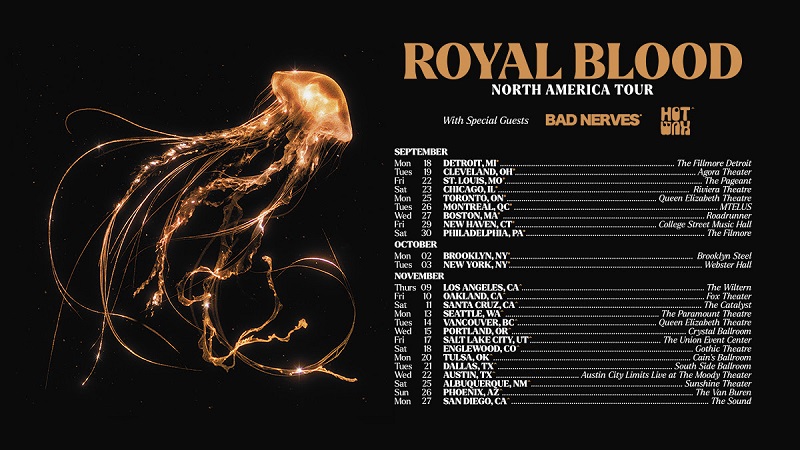 Connect with Royal Blood:
Website | YouTube | Facebook | Instagram | Twitter | TikTok
Are you enjoying MendoWerks Magazine? Receive updates each week directly in your inbox. Sign up for the newsletter here.
About Author