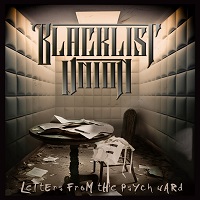 Hard rockers Blacklist Union have released a fresh new single as work continues on their highly anticipated new album. "The Queen of Everything" will be included in what will be their fifth studio effort Letters from the Psych Ward. Known for its unique brand of hard-hitting street rock. And their latest offering promises to be full of inspiration and innovative songs.
Lead singer and gifted songwriter Tony West weave a musical web that tackles tough subjects with heart-wrenching honesty (and sometimes even some humor). West typically explores deep topics like addiction, sex, friendship, child abuse, death, and living on the edge of destruction. Blacklist Union pushes itself to the limit with every aspect of its music and live performances.
Get To Know Blacklist Union
Founded in 2004 by L.A.-based frontman Tony West, Blacklist Union released their debut album After the Mourning in 2006 to much critical acclaim. Their follow-up album Breakin' Bread with the Devil in 2008, featured tracks like "Sixty-Five Steps Away" and "Wicked Love Song.", received the same amount of critical praise and solidified the band's position in the rock 'n roll world. In 2012, their third full-length album Til Death Do Us Part was followed in 2015 with Back To Momo.
The band has toured extensively and has a growing fan base both domestically and internationally. Former Guns n' Roses manager Doug Goldstein has even praised Blacklist Union, calling their album "Back to Momo" the best record he's heard since "Appetite for Destruction."
It's clear that Blacklist Union is on its way from the street to the elite. Their upcoming album Letters from the Psych Ward will likely add to their success. Keep an ear out for the album, and catch them live if you can for an unforgettable rock n' roll experience.
Connect with Blacklist Union:
Website | Bandcamp | Facebook | Twitter | Instagram
Are you enjoying MendoWerks Magazine? Receive updates each week directly in your inbox. Sign up for the newsletter here.
About Author