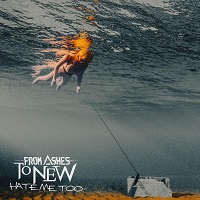 From Ashes To New are back and will drop its highly anticipated new album this summer. BLACKOUT is set for release on July 28 via Better Noise Music. The band is turning heads with its high-energy mix of hard rock, nu-metal/hip-hop, electronic, and alternative influences.
The new album serves as a prequel to their 2016 debut album, DAY ONE. The album was written during the pandemic and captures the distress of a pre-apocalyptic world that mirrors the frame of mind the world felt during the 2020 onset of COVID.
What Can You Expect On BLACKOUT?
Filled with heavy-driven music BLACKOUT includes previously released singles "Nightmare" and "Heartache." From Ashes To New teamed up with longtime collaborators and producers Grant McFarland and Carson Slovak. They helped to fine-tune the songs that ended up making the cut on the album.
The band recently released a new single off BLACKOUT, "Hate Me Too." The anthemic track is paired with a dark comedy music video. The footage shows an over-the-top American Psycho Christian Bale-style representation of an internal struggle and mental anguish when relationships fall apart. Watch the music video below, and let us know your thoughts.
"So many of us fall victim to the classic toxic relationship. Feeling like you can't live without someone but knowing you'd be better off if you could. Oftentimes these feelings are mutual, but neither of you can see it. Sometimes we just need an anthem to remind us that being stuck isn't always the only option and violence never is."

-Matt Brandyberry
Getting To Know From Ashes To New
The Lancaster, Pennsylvania-based group consists of Matt Brandyberry and Danny Case on vocals along with Lance Dowdle on guitar and Mat Madiro on drums.
From Ashes To New is poised to make 2023 the biggest year of the band's career to date. Not only will they be releasing their new album, but they'll also be performing with Shinedown and Three Days Grace on a number of shows this summer. The tour itinerary also includes stops at Welcome To Rockville and Sonic Temple.
Connect with From Ashes To New:
Facebook | Instagram | Twitter | Website | YouTube | TikTok
Are you enjoying MendoWerks Magazine? Receive updates each week directly in your inbox. Sign up for the newsletter here.
About Author