Chris Cubeta has just released an emotional new single "I'm Tired Of This" along with an accompanying music video. The track features strings from Rob Moose. He's known for his work with Phoebe Bridgers, Sufjan Stevens, and Bon Iver. The track will appear on Cubeta's upcoming album, APOE, set for release on April 7th.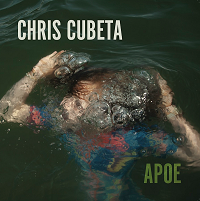 This single follows two previously released singles, "Vicious" and "Architect." APOE is a personal album for Cubeta, who has been examining how memory impacts and shapes us. "The last 5 or so years, I've been in therapy almost every week, and a lot of the time I spent was focused on writing music and where it comes from," he shares. "I'm confronting things about my childhood that have led me to be the person I am, and conversely discovering a lot about the person I want to be."
Chris Cubeta New Album
The album takes its name from a genotype implicated in Alzheimer's disease after his mother was diagnosed at just the age of 57. APOE represents a creative leap forward for Cubeta who wrote, recorded, mixed, and performed by himself aside from a few key contributors. The album features strings from Rob Moose, which provide a hauntingly beautiful addition to "I'm Tired of This" and accent other tracks on the record as well.
Cubeta has produced and engineered for some of the biggest names in the music business. He's worked with multi-platinum recording artists like A Great Big World, Michael Stipe, and Jason Mraz. He's always been an artist first and foremost. A self-proclaimed studio rat, he needs to be able to layer sounds in order to get inspired to write.
Overall, APOE is a true reflection of Cubeta and his personal journey of discovery. With its introspective dive into open-ended questions and its kaleidoscopic layers of sound, the album is sure to resonate with fans of meaningful and thought-provoking music.
For more information visit Cubeta's official website. Follow along on Instagram and Twitter for additional updates.
Are you enjoying MendoWerks Magazine? Receive updates each week directly in your inbox. Sign up for the newsletter here.
About Author