Southern California metal titans Avenged Sevenfold have made a grand return with their first single in five years. "Nobody" is available now everywhere you listen to music via Warner Records. This is the first taste of their highly-anticipated eighth studio album, Life Is But a Dream… set to drop on June 2.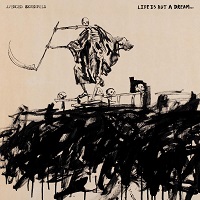 The epic track comes in at nearly 6 minutes and is full of tension, groove, and dynamics. The accompanying stop-motion music video, directed by Chris Hopewell, unfolds like a short film. The video for "Nobody" takes viewers on a journey while exploring life and death, love and war, through the main character's existential crisis.
Avenged Sevenfold Scavenger Hunt
Prior to the release, the band launched an elaborate and mysterious digital scavenger hunt with puzzles, ciphers, images, and blog posts. Each was written by AI language models Chat GPT, DALL-E 2, and AI voice modifiers. This unique hacker campaign eventually led fans to a website full of challenges that ultimately unlocked the single's release today.
Life Is But a Dream… was written and recorded over the span of four years. The album was inspired by the writing and philosophy of Albert Camus. Always pushing boundaries, the band has partnered with Berify to include an NFC tag with bonus content on all CDs, Vinyl, cassettes, and official merchandise sold on A7XWorld.com. The cover art and packaging are by renowned artist Wes Lang.
Live Shows This Summer
To celebrate the release, the band will play two massive live shows this summer, at Kia Forum on June 9 and Madison Square Garden on June 23. This marks Avenged Sevenfold's first proper New York City on-sale appearance since 2007 and their first Los Angeles county headline on-sale since 2009. Tickets for these shows will be available starting this Friday, March 17th.
Avenged Sevenfold has sold over 10 million albums worldwide and earned two consecutive No. 1 albums on Billboard's Top 200 Albums chart. They are equally known for their spectacular live shows, selling out arenas and headlining the world's most prestigious rock festivals.
The Next Chapter For A7X
With the release of "Nobody" and Life Is But a Dream… Avenged Sevenfold is poised to add another thrilling chapter to its already impressive legacy. Fans can pre-order the new album now, and purchase tickets for their upcoming shows via the links provided.
For more information visit the official Avenged Sevenfold website. Follow along on Instagram and Twitter for additional updates.
Are you enjoying MendoWerks Magazine? Receive updates each week directly in your inbox. Sign up for the newsletter here.
About Author