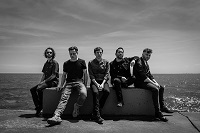 Chicago-based band MIIRRORS is all set to release their highly-anticipated debut album. Motion And Picture drops on March 24th through Pravda Records. The album was recorded in Studio B at Electrical Audio in Chicago with additional recordings done in Los Angeles and Nashville. The band produced the album and Brian Deck mixed it at Narwhal Studios.
"Motion And Picture" takes the listener on a musical journey. Prepare for a trip through honest lyrical introspection and reactive abrasion while showcasing a personal timeline of disillusionment, resolve, and hope. Material on the album blurs the lines between synthesizers and guitars, reminiscent of My Bloody Valentine and Slowdive. Shawn Rios's unique rhythms anchor the songs, and Brian McSweeney's voice soars above the expanding sounds created by Andre Miller, Patrick Riley, and Dmitri Rakhuba.
Getting To Know MIIRRORS
The story of MIIRRORS began over twenty years ago. McSweeney and Rios met on a plane and formed a friendship that eventually led to a decades-long musical partnership. The band started as a duo but evolved into a quintet of seasoned multi-instrumentalists. The band has long prioritized album creation over live performance and eventually, Miller, Riley, and Rakhuba joined the lineup.
MIIRRORS has been making music throughout the pandemic. They've released a series of singles and documented a live set at Narwhal Studios. They also filmed a video for "Nightwalk" during the height of the shutdown and featured their single "Sinistry" on a benefit vinyl compilation. Since returning to the stage post-pandemic, MIIRRORS has established a reputation as a band to see with a series of packed headline performances in their hometown.
Stay tuned for the release of Motion and Picture and connect with MIIRRORS on their Bandcamp page. Take it a step further by following along on Instagram and Facebook.
Are you enjoying MendoWerks Magazine? Receive updates each week directly in your inbox. Sign up for the newsletter here.
About Author