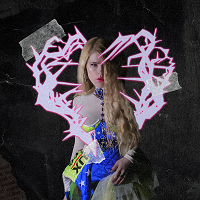 SUN is a rising brutal pop artist that has emerged from the German Black Forest and Paris. She's caught the attention of fans across the globe for her innovative incorporation of raw and melodic elements into her music. Mixing elements of metal and pop, SUN has established a devoted fan base with her in-your-face sound. And now, she's back with a brand new EP, Brutal Pop 2.
According to SUN, this EP is dedicated to her cousin Karine, who passed away in 2017. Karine was an incredibly talented painter, known for her unique style that combined collage, painting, and tearing up layers of paper to create stunning artwork. SUN says that she's been able to express herself through her music and the new EP is a way to channel those feelings.
I only know how to express myself through my songs and since my first EP so many untold emotions had build up in me. So I urgently needed to make a song about my crazy love stories (WAVE), the crazy successes I snatched thanks to this feral power that takes control of me sometimes (STRENGTH) but also about my weakest moments, when the Absence of my loved ones tore my heart apart (PRINCESS ERAKIN), and my ongoing struggle not finding where I belong on this earth (THE BRIDGE).

-SUN
But SUN didn't just write and perform on Brutal Pop 2. She also took on the role of producer, saying that she's "put on my producer cap, once and for all, and stopped hiding behind others." The EP was recorded in France at Studio Blackbox and is being released on Dark Spark Music.
SUN is managed by industry veterans Vicky Hamilton and Bassem Ajaltouni. This new EP could quite possibly be a game-changer for her career. Stay connected with SUN for access to more updates by following along on Facebook and Instagram.
Are you enjoying MendoWerks Magazine? Receive updates each week directly in your inbox. Sign up for the newsletter here.
About Author