Tanya Tucker is a legendary country singer who became a star when she was still a teenager, being named Most Promising Female Vocalist by the Academy of Country Music Awards in 1972.
Her career has had its share of ups and downs over the years, with the end of the 1970s into the early 1980s being especially difficult. She had her first big comeback in the late 80s where she ended up not only selling strongly again, but by winning multiple awards again, including CMT's Female Video Artist of the Year in 1990.
After multiple attempts at reinvention followed, Tucker was fairly off the radar again until her 2019 album While I'm Livin was released. Working with Brandi Carlile and Shooter Jennings, Tucker won the Grammy Award for Best Country Album in 2000 as well as Best Country Song for the poignant 'Bring My Flowers Now.'
Director Kathlyn Horan takes us behind the scenes of this remarkable album. There is nothing particularly fancy about her approach. We get a fairly "warts and all" look at how the songs were shaped and see a true trailblazer at her most vulnerable.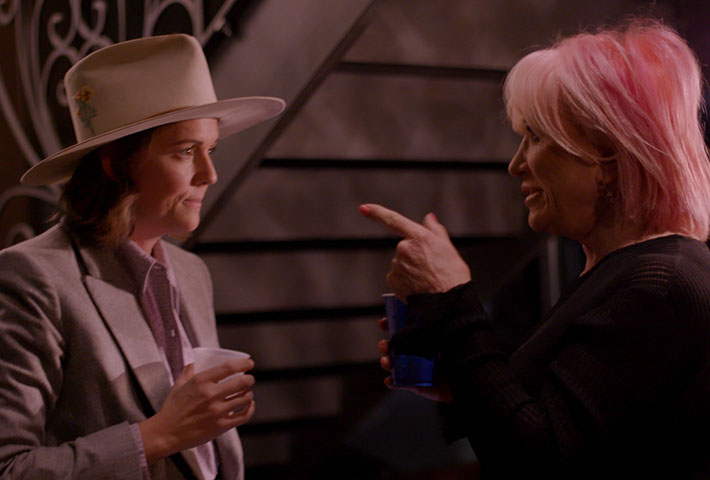 The Verdict
Horan references the past, but this is not a full-blown film about Tucker's life and career. We simply are there as Carlile uses her new-found credibility in the music industry to lift up a woman she has sincere admiration for.
More recently, Carlile has garnered a lot of attention for shepherding the return of Joni Mitchell to the stage, but here she is in the studio helping Tucker tell her story. When they sat down to craft While I'm Livin, Tucker had not released an album of original material in 17 years.
It's fascinating to just be able to watch them work. This is an excellent film about perseverance and the creative process.
The film, which won the Audience Award at SXSW 2022, also was nominated for Best Music Documentary at the recent Critics Choice Documentary Awards.
A-
How to Watch 'The Return of Tanya Tucker – Featuring Brandi Carlile'
'The Return of Tanya Tucker – Featuring Brandi Carlile' is now available to buy or rent from all digital providers. It can also be purchased on Blu-ray or DVD.
Thanks to Sony's output deal with Netflix, it should land on the streaming giant in the next few months.
Looking for more great films to watch? Check out our January streaming preview!
About Author