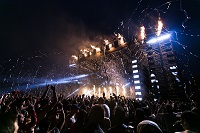 It's time to start planning your summer 2023 concert calendar. A number of America's premiere music festivals have gone live with their lineups so here's the scoop. Coachella and Bonnaroo have both announced their lineups with Boston Calling and Sonic Temple all delivering great lineups filled with talent.
Coachella
First up, Coachella, taking place over Empire Polo Club the weekends of April 14-16 and April 21-23 in Indio, California. Headlining the event are Bad Bunny, BLACKPINK, and Frank Ocean. But the lineup doesn't stop there, also gracing the stage are the likes of Becky G, Björk, Fisher, Chromeo, Eric Prydz, Charli XCX, Blondie, The Murder Capital, Momma, and even the actor and musician Idris Elba, showing off his DJ skills.
Bonnaroo
Next, we have Bonnaroo, taking place June 15-18 in Manchester, Tennessee. Headlining the event are Kendrick Lamar, electronic duo Odesza, and rockers the Foo Fighters. Joining them on the bill are acts such as Lil Nas X, Tyler Childers, Paramore, My Morning Jacket, The Beths, and Morgan Wade.
Boston Calling & Sonic Temple
The Foo Fighters will also be playing at the Boston Calling Music Festival, held over Memorial Day weekend, on May 26. Alongside them, Alanis Morissette, Paramore, and Maren Morris. And just two days later, on May 28, the band will be headlining the Sonic Temple Art & Music Festival in Columbus, Ohio, also featuring Tool, Queens of the Stone Age, Kiss, and Starcrawler.
For Bonnaroo, tickets start at $175 for one day and $299 for four days. Coachella general admission passes start at $499. Boston Calling tickets start at $319 but watch out for those fees. Sonic Temple Art & Music Festival one-day field tickets start at $149.99 and are available now while supplies last.
So mark your calendars and start planning, because it's going to be a memorable spring and summer filled with concert experiences.
Are you enjoying MendoWerks Magazine? Receive updates each week directly in your inbox. Sign up for the newsletter here.
About Author