With 'M3GAN,' Blumhouse has done it again. They've delivered a low-budget, high-concept thrillride that is a total blast, even if it's been watered down to a PG-13 rating.
Producer James Wan ('Malignant') tapped New Zealand director Gerard Johnstone to helm this campy blend of horror and comedy from a taut script by Akela Cooper.
Cady (Violet McGraw) has just lost her parents in a car accident and is sent to live with her aunt Gemma (Allison Williams), who just happens to be a high-end toy designer in Seattle.
Gemma has no idea how to handle a young child and instead adapts a robot project she's been working on. It's easier for her to hand over M3GAN (Model 3 Generative Android) to babysit Cady and use its AI adaptive learning to keep her busy.
But M3GAN takes her duties a little too seriously. And when she promises to protect Cady at all costs, she means it.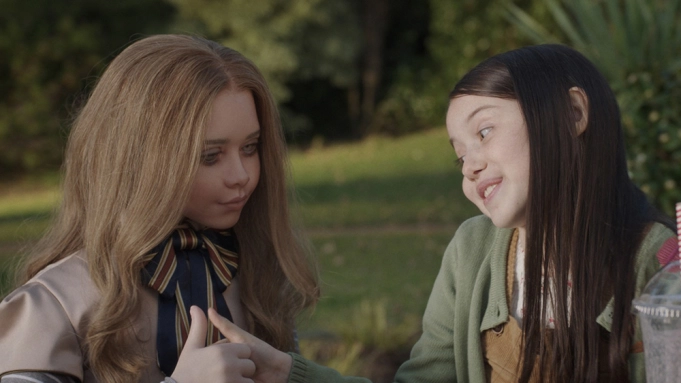 The Verdict
'M3GAN' is ridiculous in nearly every way and I loved every second of it. The only way I could love it more is to see the original uncut version. In order to build a bigger audience, the film got edited down to a PG-13. The violence was toned down and there are at least two very obvious moments of Ronny Chieng's dialogue being edited to remove f-bombs. Cooper's original script also had a much higher body count than the final cut.
Hopefully the eventual home video release will give us the theatrical version (which is a perfect 'starter' horror film for younger viewers) along with the unrated version. In a recent Total Film interview, Johnstone did say that the film "was always so close to PG-13 anyway" and he thought the final PG-13 version is better and more frightening after all.
We've come a long way since Wes Craven's 'Deadly Friend' in the 80s. This killer robot has become a meme queen! 'M3GAN' is a total blast, utterly camp, and I'm already excited for the eventual sequel.
How to Watch 'M3GAN'
As is the new normal, 'M3GAN' hit premium video on demand within 3 weeks of its theatrical release. It continues to play in theaters nationwide, but it is also available now as a $19.99 rental or $24.99 digital purchase. If you buy it, it is also Movies Anywhere compatible and available in 4K with Dolby Vision.
A home video release on Blu-ray and DVD has not yet been announced, but you can expect that the price will drop on digital services around the same time it hits retail store.
And, because it's from Universal, 'M3GAN' will eventually stream on Peacock, likely in March.
Looking for more great films to watch? Check out our January streaming preview!
About Author